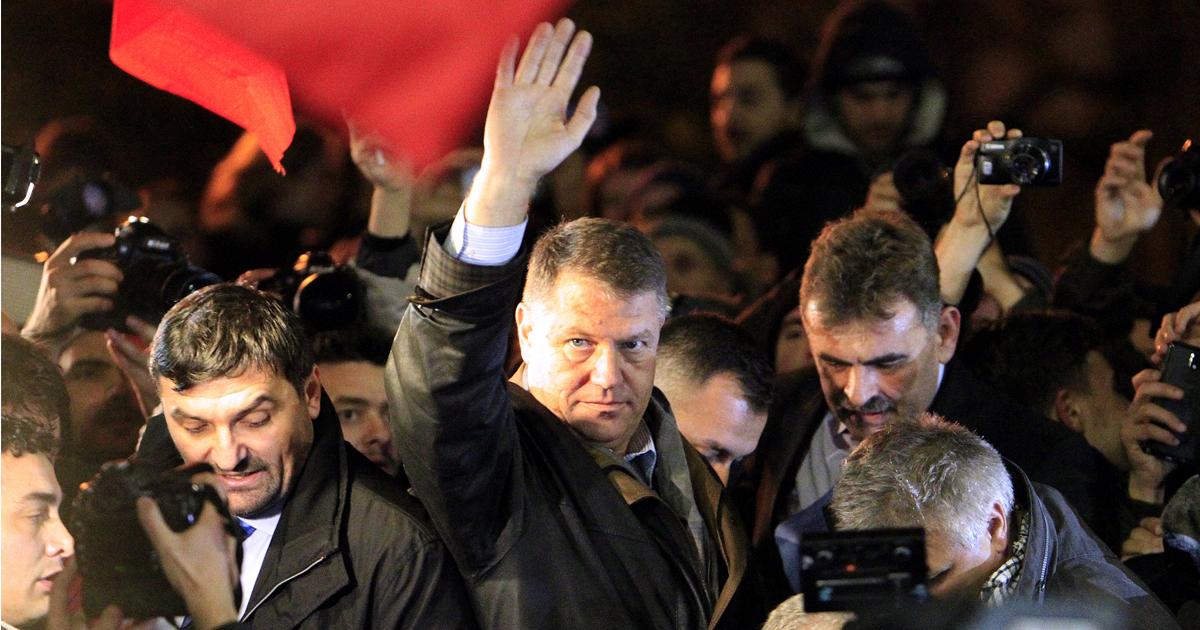 By Daniel Stroe – Bucharest
The election of an ethnic German politician at the helm of Romania has rekindled hopes in a country in which voters turned the tables this time by a massive turnout and an ample mobilization of social media, marking the start of a new era in which TV spread manipulation no longer tips the balance.
Iohannis, the head of the liberal party, won about 55 per cent of the votes against his social-democrat rival, PM Victor Ponta, even though polls had previously shown a clear victory for the latter. Ponta also benefited from large media coverage since two of the main TV news stations are controlled by his political allies. But the apparent deliberate obstruction of the voters in Diaspora turned the tides in Iohannis' favor by revolting a country which witnessed communist era practices in an EU member state.
Two days after the presidential runoff, marred by a myriad of organization problems which left thousands of Romanians abroad unable to vote in the elections, ForMin Teodor Melscanu resigned amid an uproar in the society. His resignation comes only a week after a similar decision taken by Titus Corlatean, his predecessor, following an uproar sparked by the same bureaucratic hurdles voters faced in the Diaspora, such as the constant refusal of the Government to set up new polling stations abroad behind the argument this is illegal. "I regret all these malfunctions in the second round. I apologize to all the Romanians who, showing a good civic spirit, stood in queues for hours. Since we live in a country where nobody takes responsibility, I am assuming this responsibility", Melescanu said in a press conference today.
About 360,000 Romanians voted abroad on Sunday, three times more than in the first round, but tens of thousands were left outside the polling stations when they closed at 9 pm. Protests erupted in Turin and Paris and police used tear gas to remove furious protesters who saw deliberate obstacles set by Ponta's government so the Diaspora is prevented from voting. Traditionally, voters abroad choose center-rightist candidates and reject social-democrats seen as heirs of the former Communist Party.
Numerous calls have been launched for the Romanian authorities to investigate what happened in the Diaspora, some coming from Western politicians and from the President-elect himself, Klaus Iohannis. Amid rising pressure also materialized in street protests across the country, Romania's Prosecutor-General, Tiberiu Nitu, this week announced a criminal investigation has been launched following a number of unspecified complaints both from institutions and citizens. Fueling the fire, a top judge of the country pointed out the Government could have simply passed an emergency ordinance to open new polling stations abroad, a request which had been submitted by ambassadors in France, Italy, Germany and UK, but which was ignored by Ponta's Government.
As the shame of the voting abroad started to fade, Iohannis didn't waste any time and called on the Romanian politicians to hear the voice of the street. Surging a wave of popularity, the President-elect acted swiftly and summoned the Romanian Parliament's lower house to strike down a law on amnesty which last December drew the ire of the civil society and the Western partners. Submitted by a later imprisoned senator, the law sparked fears it was aimed at helping politicians sentenced or under criminal investigation for acts of corruption.  Even though the draft law was withdrawn amid fierce protests, it was never annulled. On Tuesday, lawmakers voted against it and thus the debate on amnesty was over. On the same day, three MPs wanted for corruption by the country's anti-corruption prosecutors, saw their immunity lifted as well and can now be held responsible.
On Friday, Iohannis was confirmed as President-elect by Romania's Constitutional Court. "25 years after the revolution (anti-communist protests of 1989), a stage has closed. Romanians, through their vote, have said it very clearly: stop and we start over", Iohannis said. "At the end of the road a prosperous and powerful Romania is awaiting. I am telling the Romanians this is possible. We can build a prosperous and powerful Romania, not overnight, but we will build Romania where things are well done in time and step by step", he added.
Klaus Iohannis now has to cope with the huge responsibility of enormous expectations from his voters who saw in him a viable alternative to the representative of an old and corruption perforated party which relied on TV spread manipulation. As Ponta has refused to step down, Iohannis will have to face the same political fate as acting President Traian Basescu and politically coexist with a hostile government. But as internal tension rise high in Ponta's social-democrat party, Iohannis may be favored by the infighting in Romania's single largest party which will have to structurally change if it wants to remain politically competitive in the face of a more assertive new generation of voters. The President-elect has the advantage of the legitimacy conferred by a strong and clear vote in favor of a steep change and the social-democrats will find it hard to oppose reforms unless the party wants to face an even greater opposition at the polls in 2016.