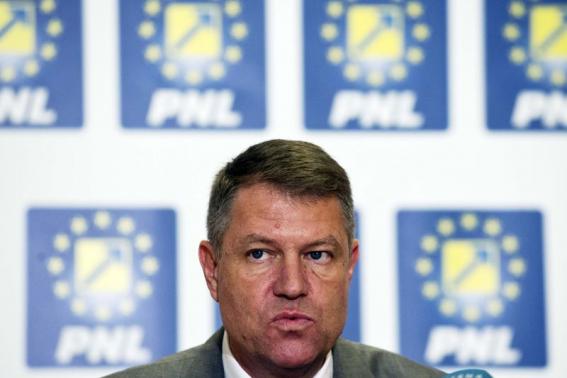 By Daniel Stroe – Bucharest
Two weeks only after Klaus Iohannis won the presidential runoff on November 16, the new elected head of state is apparently striving to put together a team of advisers who will assist him in delivering on the enormous expectations voters have from him. But their confidence was a bit jolted when the first names appearing on Iohannis' list were not the ones really expected by his savvy electorate.
"Bitte nicht. Ohne Mihalache", people reacted on Klaus Iohannis' Facebook wall after the name of Dan Mihalache, his chief of campaign, surfaced as probable head of the presidential chancellery. But where this reaction came from? From Mihalache's past. He has been a member of the National Liberal Party (PNL), led by Iohannis, since 2009, after enlisting in several parties before, especially the social-democrat party (PSD), led by Victor Ponta, current PM and former rival of Iohannis in the presidential elections just concluded. Mihalache was also an advisor to former PM Adrian Nastase, two times imprisoned for corruption. So, Michalache was quickly labeled as "trasesist", a term coined by the Romania media refer to a politician who changes parties often just to follow his personal interests.
Apart from his winding political course, Mihalache is also known for a series of statements such one in which he questioned the strategic partnership with the United States and urged "corrections" to be made concerning the activities of DNA and ANI, two crucial anti-corruption institutions in Romania. So no wonder the reaction in the social media was significant. "Don't make this major mistake. I can't believe I travelled 600 kilometers to vote", says a Romanian from the Diaspora. "All the votes will soon turn against you, Mr Iohannis", warned another.
Another adviser is said to be under plagiarism suspicions while a third is said to have featured in the annual State Department's human rights report as head of a public institutions bullying his subordinates. In any event, Iohannis has not yet confirmed the list of advisers and several media have already alleged Mihalache is already off the list following the wave of reactions on social media. The name that is now being floated is Mihai Razvan Ungureanu, former head of SIE, Romania's foreign intelligence service and former PM for three months only early 2012, whose party joined the democrat-liberals, one of the two party alliance that backed Iohannis.
The President-elect is also having a hard time attracting public figures into his presidential team due to low salaries, other media have disclosed. As state employees' salaries are limited by law, many turn their nose when hearing they cannot make more than an average 1,000 Euros per month. The law bans an official to hold other lucrative positions in the private sector and only allows him other to deploy didactic or copyright related jobs.
As Iohannis scrambles to gather a team, his former opponent in the presidential elections this month, PM Victor Ponta, is having a hard time keeping his party ranks together. Three members – Mircea Geoana (former party leader and presidential candidate in 2009), Marian Vanghelie (mayor of Bucharest's District 5) and Dan Sova (former spokesman of the party and former minister of Transport) – were expelled from the party's ranks after criticizing the poor results in the presidential elections on 16 November when Ponta lost to Iohannis with a 10 per cent margin, even if he had entered the run-off with the same two digit advantage. PSD also decided on Thursday night, at the end of a six hour meeting replete with turbulences, to organize a party congress next spring and to stay in power, despite calls to leave after the electoral defeat two weeks ago.
Bursting with fury, Vanghelie called on the Romanian authorities to check phone conversations the party leader Victor Ponta has made over the past six months to discover, he says, plans to stem the voting process abroad. Thousands of Romanians queued for hours on 2 and 16 November but we unable to vote in the end amid a poorly organized electoral process which they say was a deliberately set obstacle by the Government who feared the Diaspora's vote would tip the balance in Iohannis' favor. Surprisingly, neither Ponta nor Liviu Dragnea, his deputy at the helm of the party and Government and former campaign leader, resigned after losing the elections, but clung to power in the purest Romanian tradition of doing politics.
Amid the heated online debate on Iohannis' advisers, the President-elect yesterday visited the Republic of Moldova to silence those critics who, during the electoral campaign, played the nationalistic card and accused him of not ever going to Moldova or Cernauti, the city hub of the Romanian community in Ukraine. Well received in Chisinau, Iohannis assured he would strongly support Moldova's European ambitions and urged citizens to vote for an EU future of the former Soviet republic in tomorrow's crucial elections. "Moldova's EU accession is a national project of Romania. I wish this would happen during my term", concluded Iohannis, who was voted by about 80 per cent of Romanian passport holders in the Republic of Moldova and hence an even bigger moral obligation to visit the country. But Moldova may become Iohannis' geopolitical burden during his term, given the unstable situation in neighboring Ukraine which could easily spill over the border in Moldova and then require Romania's firmer intervention in the "sister country".