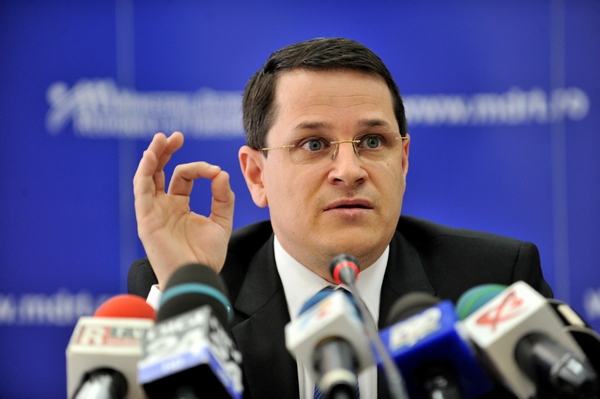 Bucharest, February 21, 2015/ Independent Balkan News Agency
By Daniel Stroe
Former President Traian Basescu, who led Romania for ten years until December, and current head of state, ethnic German Klaus Iohannis, came into collision this week following the latter's nomination t the helm of the country's most powerful secret service. Basescu's attack may signal his return on the political stage before next year's parliamentary elections.
It all started after Iohannis nominated Eduard Hellvig (a fellow ethnic German) to lead the Romanian home intelligence service SRI. Hellvig (41) (photo) is the first nomination Iohannis makes for the leading positions still vacant at the helm of the country's main intelligence services – SRI and SIE (foreign intelligence service). "I have looked for someone who is prepared for such a position, who has the necessary training and energy, who knows political actors, who has enough knowledge about the activity of SRI and who is a person who can bring the necessary calm in this space. I have looked for a person who for me represents the guarantee of a modernization and Europeanization course for SRI", Iohannis explained to reporters, when asked what recommend Hellvig to take over the job.
His nomination comes three weeks after George Maior, who had led SRI since 2006, resigned in a surprising move. The reasons behind the decision are still unknown but his resignation came amid a fierce debate in Romania on the so-called Big Brother laws – data retention and obligation for PrePay cards users to register – a year after the Constitutional Court rejected both draft laws as unconstitutional.
The debate was reignited by the terror attacks in France last month. A week ago, Maior criticized the Constitutional Court for striking down the two laws which he said were necessary for protecting Romania and later on, judge Augustin Zegrean, head of the court, denounced pressures exerted by SRI. Despite the tense moment Hellvig's nomination comes in, SRI has been actively involved in the major ant-corruption fight in Romania, which has been on the surge for a few years now. SRI also leads Ukraine's cyber-protection unit which NATO set up following last fall's summit.
But what is it about Hellvig's nomination that bothered Traian Basescu? Reacting on Facebook, Basescu said: "The Grivco prime-minister manages to nominate one of Voiculescu's men for the SRI leadership. Shocking"!  A little explanation is needed to decipher his message: the Grivco prime-minister is Klaus Iohannis and Voiculescu (Dan Voiculescu) is Basescu's main rival, now in prison serving a ten years sentence for corruption. Voiculescu, a powerful media tycoon, was the one behind Basescu's twice impeachments in 2007 and 2012 and Grivco is the name of one of his companies. It is the headquarters of this company where Iohannis is suspected of going to negotiate, along his fellow liberals, a position of premiership years ago.
Moreover, Eduard Hellvig was until years ago a member of Voiculescu's Conservative Party and hence Basescu's tough reaction. Last but not least, in 2012 Hellvig was directly involved, as a member of the National Liberal Party, then a member of the ruling coalition USL, in Basescu's second impeachment which was widely seen, even in the West, as a political coup. Both the USA and the EU sharply criticized the attempt to remove Basescu from power by encroaching on fundamental constitutional and democratic principles. So, when you nominate someone who was part of the firing squad at the helm of SRI, Western partners may frown at the proposal.
Romanian analysts say, citing sources, that Iohannis did not consult with the Americans over the nomination. SRI and CIA have had a fruitful cooperation over the past years, when SRI was led by George Maior, and a solid evidence in this regards is appointing the Romanian secret service to lead the cyber-protection efforts of embattled Ukraine. Installing a US anti-missile base in Romania also led to an increased cooperation between the two country's intelligence agencies therefore, in theory at least, the Americans should have at least been notified about Iohannis's plans.
This is so far Basescu's strongest attacks against President Iohannis, even if he had before used the "Grivco prime-minister" collocation to refer to the current head of state. It may signal his return into politics after two months of staying low. With his former close ally Elena Udrea embattled by the anti-corruption prosecutors, Basescu feels the urge to counter-attacks even more. But, beyond his political plans which will sooner or later materialize, it will be interesting to notice how Iohannis will raise a parliamentary majority to secure Hellvig's appointment at SRI. It is not excluded he may have to defer to political rivals to win his man's majority of votes. If he does so, his appeals for a purified Romanian politics remain just simple and irrelevant words.