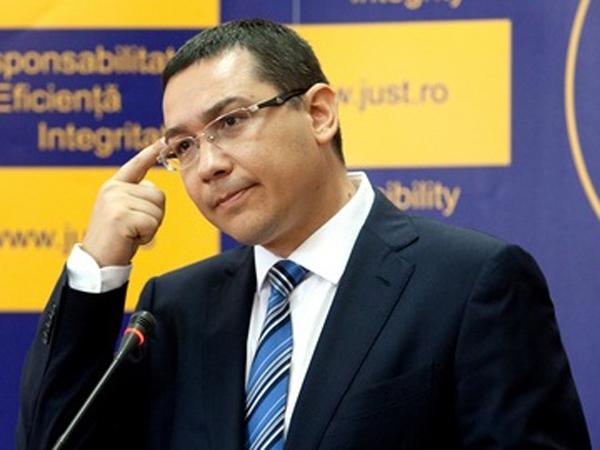 By Daniel Stroe – Bucharest
The political fight between the first two men of the country – PM Ponta and President Basescu – took a step forward this week, another sign of an electoral campaign more and more alert. The stakes are so high that the two throw all their might in this competition which will culminate with a five year presidential term as of November.
When the Romanian PM Victor Ponta announced early this week he would relocate his office at the Ministry of Defense, many frowned and couldn't help asking questions about the motivation behind the decision. It may have made sense amid the crisis in neighboring Ukraine for a PM to take better protection measures. But it wasn't the case. Ponta went there, at least the way he publicly motivated his decision, to evade being "set-up" by President Basescu.
"I have moved my office starting today; I have one at the Ministry of Defense. It is a military base, better guarded. Anyone who comes to me is registered. I am expecting more set-ups on the part of Traian Basescu and his people. I want such set-ups to be foiled until November", Ponta said last night in a TV talk-show.
The "set-up" he mentioned referred to a corruption case launched against Adrian Duicu, head of a county council in SW Romania, and a powerful member of Ponta's social-democrat party and now in temporary arrest. In some of the transcripts of phone interceptions made by the anti-corruption prosecutors, Duicu alleges he is in the prime-minister's office to arrange the promotion of the county chief of police. Ponta denied he had witnessed or directly arranged such arrangements and sais he was not even aware of these behind the curtain talks, though he may have at least to explain who did all the arrangements Duicu was talking about in his own office.
Duicu is just one of Ponta's staunch men either under criminal corruption or under arrest. Involved in dubious schemes in the counties, they fall one by one under the anti-corruption roller. On Friday, Constanta mayor Radu Mazare, an eccentric figure of Ponta's party, had a narrow escape from spending Easter behind the bars. Charged with receiving a 170,000 Euros bribe, judges decided last night he will be investigated at large. With a lot of pressure exerted on him by the so-called local barons, Ponta decided to move into the Ministry of Defense where allegedly entry is more difficult than in the seat of government, many argue.
Ponta retaliated this week. He grabs whatever chances come before him to strike back in the more and more frenzied fight against Basescu. The new front opened against the President is a 300 hectares land his daughter, Ioana Basescu, bought last year with a view to start a business in agriculture. But Ponta's social-democrats accuse Basescu he used his influence to help his daughter acquire the land and set up a parliamentary committee to investigate the transaction. The committee concluded the deal was illegal since the company which sold the land was inactive when the transaction was made.
The President lashed out against social-democrat senator Gabriela Firea, a member of the parliamentary committee investigating his daughter's acquisition. "She had better mind her own business and care about what happens on her husband's estate where he is a mayor because she might not find him at home one day. I understand some pretty bad things are going on in his perish" Basescu said, referring to Florentin Pandele, mayor of the town of Voluntary, a suburb of Bucharest.
Reacting to these statements, Ponta thundered against Basescu and threatened he would file a complaint. "Basescu will have to account before the law until December the latest. State's institutions and the justice sector have to hold Basescu accountable" he said, denouncing what he called "a mafia regime". "This is the first time after 1989 when a member of the Parliament, her family, is directly threatened by someone who is investigated for breaking the law. I think this is unprecedented. Basescu is a corrupted communist" Ponta lashed out. "I am absolutely sure Basescu would end up in jail" Ponta also said.
The hard words thrown at each other intensify as it becomes clearer and clearer Ponta seeks to succeed Basescu at the helm of the country in November's presidential elections. Ponta said he would make a decision after next month's Euro-elections which will measure his party's and his own popularity following a series of unpopular measures, such as the introduction of a fuel tax this month. Ponta started training though for the first job in the country with a smoother speech with pro-American and pro-European tones, following a what seemed to be a more pro-Russian and pro-Chinese stance.