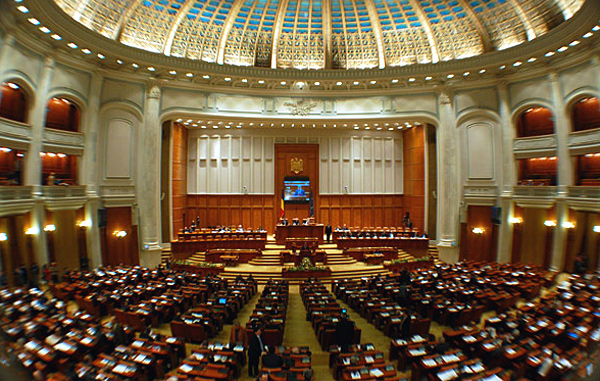 Bucharest, December 20, 2014/ Independent Balkan News Agency
By Daniel Store
As the country readies for the new President, Klaus Iohannis, to be sworn in tomorrow, many eyes are still set on the acting Romanian President, Traian Basescu, the longest serving leader in the European Council, a summit which he last attended on Thursday, a politician which has left a deep mark on Romania's post-communist history, helping it live up to the commitments of a NATO and EU member state, but also polarizing the Romanian politics in an unprecedented manner.
Installed in December 2004, the former sea captain has had a stormy two term office at the helm of Romania. He was the first post-communist president to be suspended, and not only once, but twice, in 2007 and 2009, but each time survived the political turmoil and reinstated through referendums. The economy almost tripled under his consecutive terms, growing from 247 billion lei in 2004 to more than 625 billion lei in 2013, with a higher figure expected for this year. Most important, Basescu has placed his bets on a strong strategic partnership with the West, particularly the United States which has installed an anti-missile defense base in Romania, to become operational next year. The fight against corruption also took an unprecedented drive while the independence of the judiciary started catching a firmer shape.
"Live well" was the slogan that brought him to power in 2004 and among the first measures his administration passed was the introduction of a flat tax rate. Even though he was elected behind a coalition of parties, in 2005 the political discord aroused among the allied parties and marked the beginning of a decade long war of words with one of his most outspoken rival, Dan Voiculescu, a very influential media tycoon and politician now in jail for corruption. The very same year, his relation with his electoral ally, liberal leader and PM Calin Popescu Tariceanu, started deteriorating and that was going to leave its mark on Basescu's first presidential term. 2005 also brought a sudden crisis on the Romanian political stage – three Romanian journalists were kidnapped in Iraq and released after 55 days. The mastermind, a Syrian businessman, Omar Hayssam, managed to flee the country but was finally apprehended amid the civil war in Syria, in 2013, following a special operation of the Romanian intelligence.
In 2007, 12 years after Romania filed for EU membership, the country joined the communitarian bloc. The very same year brought the first impeachment of Basescu, orchestrated by his now fully fledged political rival Dan Voiculescu. Still a popular politician, Basescu was soon reinstated after a referendum on his impeachment was called. A year later, in 2008, following parliamentary elections, Basescu appointed Emil Boc as PM. Boc, one of the staunchest political allies of Basescu, ruled over a period of economic decline and implemented tough austerity measures, such as a 25 per cent cut of salaries for state employees which cost Basescu dearly in terms of popularity.
In October, Boc's government was deposed following a vote of confidence, becoming the first Romanian post-communist government to be removed by the lawmakers. It is then when Klaus Iohannis's name surfaced for the first time on the central stage of Romanian politics, being proposed as Boc's successor at the helm of the government. Basescu was reelected in November 2009, defeating Mircea Geoana who, ironically, seemed to have won the elections according to the exit-polls. Official numbers the following morning turned the tables against him though and Basescu started his second five year presidential term.
Half a year into his second term, Basescu takes the brunt of the austerity measures which he announced in a press conference. With more than a million employees in the public sector, the salary cuts dented Basescu's popularity which was to be observed two years later when he was again impeached. The second suspension, behind which lay the same Dan Voiculescu, sparked the biggest political crisis in post-communist Romania, throwing away years of progress the country had made and basically burying plans for the country's Schengen accession. This objective on Romania's foreign policy agenda remains one of the major failures of Basescu's ten year office and is far from being tabled again by Western allies.
In 2012, Bucharest was the stage of the massive street protests sparked by a growing anti-austerity feeling among citizens. Emil Boc resigned as PM and his successor, Mihai Razvan Ungureanu was soon removed through a vote of confidence. The new coalition in power led by current PM Victor Ponta staged the second impeachment and despite prompt intervention of the EU and USA, angered by Ponta's unconstitutional moves, the latter managed to stay in power. His relation with Basescu became increasingly hostile and has marked the rest of the second term of the President. Basescu went as far as accusing Ponta of having been an agent for a Romanian intelligence service. In November, Ponta lost the presidential elections to Klaus Iohannis.
Despite some controversial decisions, Traian Basescu has ruled over a period of significant progress for Romania, bearing in mind the turbulent political waters. His legacy for Iohannis is a country deeply rooted in the Euro-Atlantic environment, especially amid the crisis in neighboring Ukraine, an ever bolder judiciary system which is now translating in a myriad of corrupted politicians either sent behind the bars or under criminal investigation and a more robust economy. He leaves behind though a still immature political class with many still prioritizing personal and party interests. A change in this regard is a mission for Klaus Iohannis to complete.