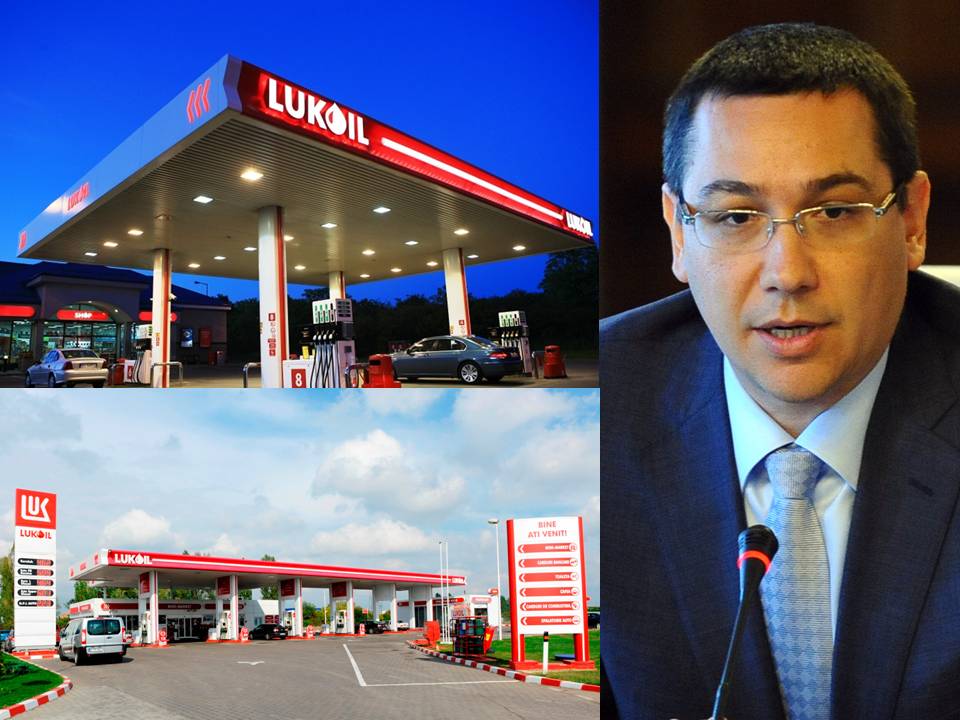 By Daniel Stroe – Bucharest
A fiscal evasion and money laundry investigation at a refinery operated by Russian crude giant Lukoil has ruffled political feathers in Bucharest and again pitched PM Victor Ponta against his more experienced political arch-rival, President Traian Basescu, two politicians with two different visions concerning the scandal sparked around the Russian business.
It all started last week when prosecutors in Ploiesti, a city 70 km north of Bucharest where the Petrotel refinery is located, stormed Lukoil's offices and questioned the head of operations in Romania, Andrey Bogdanov. Authorities say they suspect damages amounting to about 230 M Euros, of which 112 M Euros are thought to be resulted from tax evasion and the rest from money laundry, an investigation which the Romanian home intelligence service SRI also joined.
Some of Petrotel's assets, such as crude oil tanks, have been frozen by prosecutors, but not for long. In very firm public interventions, Romanian PM Victor Ponta criticized the measure of distraint and called on the investigators to think of the 3,500 jobs at Petrotel first. His words were met with fury by the Romanian media and some of the politicians who accused Ponta of thinking of the Petrotel affair from an electoral perspective only. Ponta is running in next month's presidential elections in which he is a favorite. He even admitted he feared the 3,500 employees of Petrotel would march to the government headquarters. The media revealed though Gazprom has three times less employees than the number used by Ponta in his public declarations.
"Ponta's statements were direct threats against prosecutors" Monica Macovei, former Justice Minister and a candidate in next month's presidential elections, reacted. "Anyone wishing the top job in the country should understand justice is justice, economy is economy and politics are politics" she added, referring to Ponta who is the favorite in the presidential race. Romania's Superior Magistrates Council also announced it would analyze Ponta's statements and see if they require further steps.
The distraint was partially lifted and the Romanian media was quick to disclose one of the high ranking magistrates in Ploiesti is the wife of Tiberiu Nitu, Romania's prosecutor-general, appointed by Ponta himself. Furthermore, following the partial lift of distraint, Lukoil threatened it would close operations in Romania unless sequester is totally lifted. Ponta's electoral calculations were short-lived. On Thursday, Romanian President came out publicly with very firm statements.
"I believe such an approach is unacceptable and if tomorrow Lukoil decides not to resume the production I am asking the Government to be prepared to take over the refinery in Ploiesti", the Romanian President said tonight. He added the government should pay back the privatization price, plus costs of technologisation of the refinery, from which to deduct the 230 M Euros believed to be fiscal evasion.
"If, based on pressure, which seems to me a Putin-like approach, this is what Putin does in his country, not in an EU member state, our behavior has to be understood by Russians and we will have to behave in the same manner (…) Lukoil has to make up its mind, it observes the Romanian legislation or, if it wants the Russian laws, it should go there", Basescu added. He also denied Petrotel has a 700 M Euros yearly contribution to the state budget, pointing out the company has not been profitable for five years.
A day after Basescu's severe warning, Lukoil notified environmental authorities in Ploiesti it is resuming the technological operations. The Russian company gave up its ultimatum. But its country manager, Andrey Bogdanov, is subject to a criminal investigation for tax evasion and money laundry. Even though a few days ago, Russian ambassador to Bucharest, Oleg Malgynov, voiced concern about the investigation against Petrotel and warned he is keeping a close eye on it, yesterday he lowered his voice and said he abstained himself from further comments lest he adds further excitement to the already tense political speech. On Friday though, Gazprom announced it has cut gas supplies to Romania by 13.6 per cent.
Ponta was again cornered by President Basescu in an affair which one more time disclosed the PM's weak policies. Driven by mere electoral fears, Ponta took another wrong step which casts further doubts on his preparedness to take over the top job in the country. His political behavior is even more worrisome since he again interfered with the justice system, encroachment which the West is very sensitive about, especially since Ponta-led ruling coalition's erratic conduct in the summer of 2012.