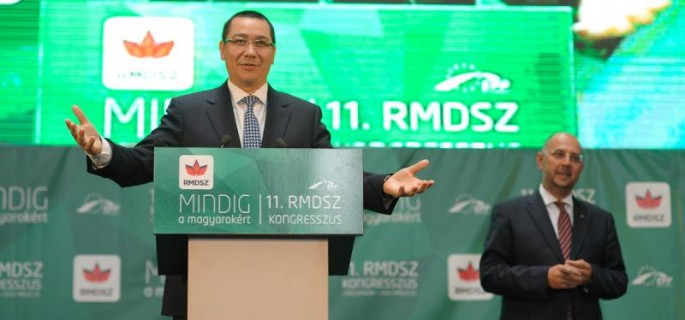 By Daniel Stroe – Bucharest
The Romanian authorities found themselves this week caught in the middle of Hungarian's incessant quest for autonomy, amid a growing separatist trend in Europe, and a need for a majority in the Parliament to go ahead at till the presidential elections this fall. As the Romanian politics have shown so far, issues are often solved by means of some ridiculous compromises.
UDMR, the main Hungarian ethnics representing party in Romania and a ruling ally of PM Victor Ponta's social democrats, supported a pan-European initiative, Minority Safe Pack, meant to ensure more rights for ethnic minorities across Europe, such as linguistic and cultural autonomy. The initiative, also endorsed by Austrians in South Tyrol, Germans in Belgium and The Netherlands, Hungarians in Slovakia, was rejected by the European Commission on grounds decisions concerning ethnic minorities lie with the national governments according to the EU treaties. The signatories filed an appeal at the EU's Court of Justice and national governments joined the trial to support their cause, alongside the European Commission.
UDMR threatened it would withdraw from power unless Romania gives up its intervention at the EU's Tribunal. "I am underlining again and I believe in that, when it comes to coalition matters, we can negotiate almost anything. But when it comes to state affairs, this is not negotiable even if the government falls" Ponta said in a live talk-show hosted by B1 TV."Coalitions come and go, the state stays. It is not fair we are asked to give up the Romanian state's position" Foreign minister Titus Corlatean also reacted, pointing out the Romanian Government could have asked UDMR to give up its support for the controversial initiative, but it didn't.
In a previous reaction, the Romanian Ministry of Foreign Affairs slammed Hungary for tacitly supporting this initiative. "Of course, in this juridical procedure, two conflicting points of view are colliding – one of the European Union which Romania considers to be correct and support, and, on the other side is Hungary, intervening part in this trial, which seeks to fulfill, by means of the EU, its desire to become a trans-national guardian of Magyar ethnic minorities in the EU member states" a heavy worded press release read.
Last night though, UDMR's president Kelemen Hunor, minister of Culture and deputy-PM, said he is resigning from the Government, but his party wouldn't withdraw from power. All of a sudden, UDMR realizes the principle it was fighting for in public no longer warrants a withdrawal from power. Power is more tempting than an objective unlikely to attain in the current European climate.
But the Romanian media disclosed that, in fact, Ponta negotiated with Hunor that the Romanian government will continue to be part of the trial at the EU's court, but it would give up interventions in the trial instead. Moreover, the issue will be debated in the Romanian Parliament before any further moves at the European court. Why would Ponta do that when he knows the Hungarian issue is one sensitive to Romanians and may impact on his efforts to reach the top job in the country at the elections in November? Many say it is highly unlikely the European Commission loses the trial at the court in Luxembourg and Ponta's decision to suspend the intervention at the court is merely meant to calm down spirits for a while in an electoral year an drag things until the beginning of the electoral campaign where he will be firmer in this regard.
He is also reluctant he may be forced to look for new coalition partners to support him in the Parliament, even if he has some choices. But these new choices also come at a price he may not be willing to pay now. So he stuck to the UDMR more viable choice. But the truth is Ponta is got more to lose that Hunor who has his own stable electorate. A compromise, even if for a short term, after what seemed to be an intransigent position in this issue, shows Ponta is not consistent, as he has shown many times before. He may also consider that his counterpart over the border, Hungarian PM Viktor Orban, does not waste any time with such ridiculous compromises, but hits the bull's eye.