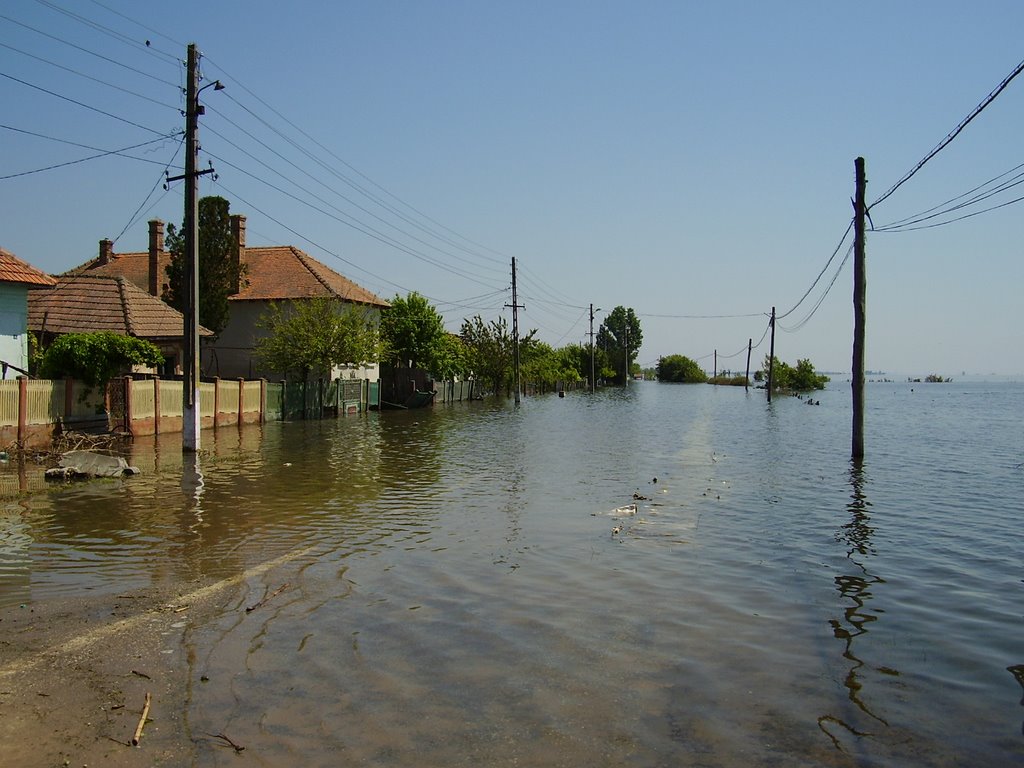 By Daniel Stroe – Bucharest
Romanian politics came to a halt this week for a few days because of massive floods in the SW of the country which have once again underscored immense flaws in the state emergency apparatus and brought to surface a huge problem which has been ignored over the past two decades, illegal deforestation. But as the water receded, politicians remembered the stake is not the citizen's safety, but the presidential elections this fall.
Three people so far died in floods which hit counties in South-West Romania, with one person still unaccounted for. Authorities say these floods are exceptional and occur every two centuries, with rivers swelling 400 times their usual flow. Meteorologists also say floods in SW Romania were signaled by the similar and even worse disasters which struck the Balkans two months ago.
The Romanian media took stock again of the PM Victor Ponta's response to the floods after the head of the government showed up in one of the devastated areas wearing fancy shoes, a picture was all over the social media. A few months ago, in a similar context, Ponta was carried away in an inflatable bloat by firemen even if water was up to the ankle, to the dismay of the public. Unfortunately for Ponta, floods struck the very day he announced his candidacy for the presidential elections this fall, shadowing his electoral moment.
The floods reignited the same debate about illegal deforestation in Romania which many blame for severe flooding. The opposition also called on the Romanian government to publicly present the map of illegal deforestation in Romania, blamed by many for floods in various regions of the country. According to a report last fall by Romania's Court of Accounts, about 366,000 hectares of forest has been illegally cleared over the past two decades, with damage amounting to more than 5 billion Euros. Another report by Greenpeace says more than 3 hectares of woods are cleared every hour, with reforestation costs going up to 3 million Euros for 700 hectares. Many such illegal activities are said to be taking place behind protection offered by either local or central politicians.
But the concern for the devastated areas soon faded away and the politicians entered the electoral mood again. On Thursday, PM Victor Ponta asked his Labor and Social Affairs minister to come up with a proposal to exempt pensioners whose pensions were wrongly calculated by state clerks and who now have to return money from those debts. Apparently, Ponta was moved by a number of suicidal among elderly following notifications they have to pay back the state large amounts of money. But initially, the PM asked all the pensioners be exempted from paying these debts, even those who bribed public servants to get bigger pensions or even illegal pensions for those who retired on medical grounds. After the media pointed out among the pensioners targeted by the Government's good will are people who committed illegalities, Ponta changed his speech and asked for fiscal amnesty for those pensioners whose pensions were wrongly calculated by state servants.
As the presidential elections in November approach, a false debate is catching shape in Romania which only serves Ponta's interests. Several newspapers and websites started asking readers whether they would vote for a candidate who is a member of an ethnic minority and belonging to other religious groups other than Orthodox. It is the first time in post-communist Romania such a debate arises and the questions clearly refer to Klaus Iohannis, the mayor of Sibiu, a city in central Romania, a German ethnic and a neo-protestant. But the debate was sparked by Ponta himself who suggested he may use this theme in the electoral campaign. Speaking to daily Adevarul, Ponta gave a tricky answer to the question whether he would attack Iohannis for being a German ethnic and a neo-protestant, but hinting he may do so. "It's nothing bad about Mr Iohannis being a German ethnic, but no one can accuse me of being a Romanian ethnic. We live in Romania after all and I am proud to be Romanian. The same about religion. It's nothing bad about Mr Iohannis being a neo-protestant, but no one can reproach me with being an Orthodox" Ponta replied. The debate is likely to go on, with views already divided whether Iohannis' ethnicity and religion will make any difference in the electoral battle.
The week ended in a stern political note after President Traian Basescu warned PM Victor Ponta he disagrees with two nominations the prime-minister made for two posts in his government: minister of Culture and delegate minister of Budget. Basescu argued Ponta's nomination for the Culture position, Rosalia Biro, a Magyar ethnic, doesn't speak Romanian correctly and "90 per cent of the Romanian culture is a Romanian language culture" while the Culture Ministry "has a stable and powerful component of representation of the Romanian culture". Basescu also slammed the proposal for the Budget minister which Ponta gave to Iulian Manda, a young politician from his own social-democratic party. The President warned Manda has to financial expertise and this may impact discussions with the IMF and other external creditors which will thus raise an issue of credibility.