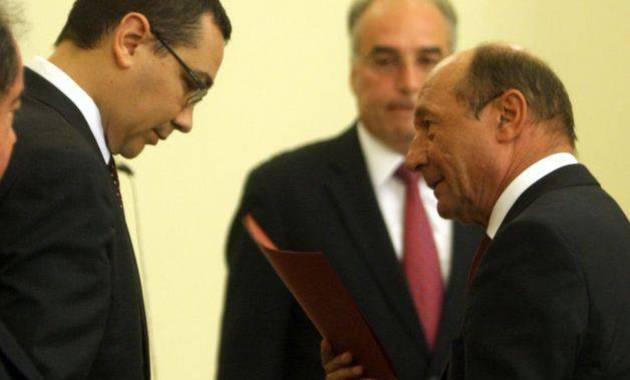 By Daniel Stroe – Bucharest
Romanian politics took a short break from the usual bickering this week while authorities in Bucharest turned their eyes to the Republic of Moldova, former Romanian territory where the Ukrainian crisis could spill any moment. In the meantime, the head of an influential businessman in Romania rolled under the axe of the anti-corruption prosecutors while a dead body found in a pack in Bucharest rekindled the debate on the 40,000 stray dogs roaming the streets of the capital.
The news that the so-called Parliament in Tiraspol called on Russia to annex Transnistria following the Crimean example sent shockwaves in Romania which keeps a close eye on the Republic of Moldova, its territory that was taken away in 1939. A meeting was said to have been scheduled in Moscow to analyze Transnistria's request, though no word came out of it later. On Tuesday, Romanian President Traian Basescu and his Moldovan counterpart, Nicolae Timofti, met in Iasi, a city in NE Romania. "Romania is warning about security risks Moldova is facing" Basescu said.
He also pointed out, in a direct message to the EU, that the expertise concerning events in the region is with countries at the Black Sea, not "beyond the Atlantic". "Russia will not stop, Crimea is just an episode" Basescu warned, calling on Brussels to accelerate Moldova's EU integration and settle a firm and clear schedule for the former Soviet republic. Calling for firmer actions against Russia, Basescu reminded that "this is exactly how the Second World War started".
On Friday, Russia held military drills in Transnnistria, a breakaway republic Moscow has so far hesitated to recognize, unlike South Ossetia and Abkhazia, shortly after international news agencies revealed Romania will join the US army in drills in Poland along the Baltic countries. Analysts in Romania pointed out that Russia will never recognize Transnistria because this will translate into its green light to a possible union between Moldova and Romania.
While the country's whole geopolitical might was oriented towards Moldova, in the country, the president of the Romania's Chamber of Commerce and Industry, Mihail Vlasov, was being arrested by the National Anti-Corruption Department's (DNA) prosecutors in Iasi, the above-mentioned city in NE Romania.  Vlasov was charged with asking for a bribe of 1 million Euros to interfere in a criminal investigation, using his influence. On the same day, on Wednesday, Nicusor Constantinescu, the head of the Constanta County Council and one of the most powerful so-called "local barons" of the ruling social-democrat ruling party, was detained by the same DNA prosecutors. He is charged with 24 counts of abuse of office. He was released the following day under strict judiciary control, but was suspended from his job at the helm of the chamber.
On Thursday, DNA prosecutors also arrested a former vice-president of the country's national authority for properties restitution and his son after they claimed 1 million Euros to help someone receive a five times higher damage from the state. On the same very day, PM Victor Ponta published an op-ed in Wall Street Journal in which he says Romania joined NATO in 2003, not 2004.
The week closed with a renewed debate on the eternal stray dogs issue Bucharest has been facing for years. A homeless was found dead in a park in Bucharest with severe bites on her body. Forensics say the woman died from alcohol consumption, but sources revealed to the media her blood veins had been severed by dogs' bites and died from a hemorrhagic and traumatic shock. Of the nine dogs the catchers found at the scene, two had been adopted by a woman who had in total 110 stray dogs in custody. After a law on stray dogs' euthanasia was passed late last year follow the tragic death of a four years old child, mauled to death by dogs in a park in Bucharest, people hurried to adopt dogs but then let them loose on the streets again.
About 10,000 dogs have been rounded up since September when the tragedy that shocked and outraged Romania happened and about 40,000 dogs are still roaming the streets of Bucharest, the city hall announced yesterday. Only 2,000 dogs have so far been euthanized, while another 6,000 have been adopted. But with many Bucharesters adopting dogs and then releasing them back in the streets, the city hall is now looking to ban adoption for those who do that. Despite a law saying stray dogs which are not adopted within 14 days can then be euthanized, local authorities are reluctant to apply the measure. Their incapacity to handle this problem over the past 24 years forced the radical measure of killing dogs and led to the dogs vs. men question, critics argue.