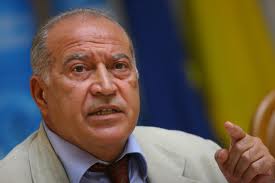 By Daniel Stroe – Bucharest
Romania's political life gravitated this week around what appears to be the imminent political demise of a powerful media tycoon who has left his mark on the media and political landscape in the country and whose actions triggered severe crises which kept Romania beating around the bush in its main endeavors, such as the Schengen accession.
Dan Voiculescu, the owner of the Intact media group, is being trialed for corruption in a case which started all the way back in 2008 and which caused the Romanian state damages of up to 60 million Euros. Already sentenced to five years in prison, the mogul has only one appeal left to make, but judiciary sources warn his file will be prescribed at the end of the year. As a consequence, easy to understand, the oligarch is doing whatever he can to postpone the appeal and finally get the prescription of his corruption crimes. But this week, justice seems to have turned an important page in his trial to his irritation. A new panel of judges has been instituted to try Voiculescu's case after the latter managed to delay hearings by means of various legal loopholes. Of two judges in the previous panel, one was arrested for corruption while the second asked for retirement, in a move seen as Voiculescu's hand.
The new judges didn't waste any time. They set the next hearing for 7 July which may also be the last one in the case. At the same time, the judges extended the restraint placed on Voiculescu's assets and rejected all the requests deemed as means to delay the trial again. Prosecutors are now asking for a 12 years prison term for Voiculescu, well beyond the five got in the first verdict. Voiculescu cannot now leave the country and has been placed under judiciary control. And as he left Tuesday's hearing, he was informed he was being tried in another file in which he is accused of blackmail. The noose is tightening around Voiculescu, the Romanian media concluded.
But why so much attention to this character whose dealings started all the way back in the communist regime? Founder and now a behind the scenes leader of the Conservative Party which managed to enter the Romanian Parliament only by allying with the social-democrats, Voiculescu has been for a decade the man who pulled the strings in the Romanian politics. Very influential thanks to his large media empire, he uses his TV stations to launch scathing attacks against his political rivals. He is feared by politicians who seek to make him an ally rather than end up being devoured by his media. Journalists who dared criticize him were literally lynched by Voiculescu's propaganda apparatus.
His biggest rival of all time has been President Traian Basescu whose two time impeachment, in 2007 and 2012, is said to have been orchestrated by Voiculescu. The severe political crisis of 2012, the worst in post-communist Romania and which many point to as a coup, threw Romania back in time years and left the country's strategic projects, such as the Schengen accession, hanging by a thread.  The oligarch's fall would mark a huge step forward for the Romanian democracy, prove the judiciary has finally frown to be independent from any political intrusion and might finally lead to a resetting of political parties, analysts say.
It's been a week full of justice, as some Romania media suggestively said. One of the so-called local barons, influential local politicians, Constantin Nicolescu, former head of the Arges County Council, was sentenced to nine years in prison after embezzling EU funds. Nicolescu is one of the local barons of the ruling social-democrat party led by PM Victor Ponta many of which are under criminal investigation for corruption. One of them, Nicusor Constantinescu, head of the Constanta County Council, is now being looked for in America where he said he was going for a cancer treatment.
In a separate development, Romania finally inaugurated its first fast train connecting Bucharest to Constanta on the Black Sea coast. Four passenger trains which will reach a maximum speed of 160 kilometers per hour will cover the distance between Bucharest and Constanta in two hours. A historic moment, authorities rushed to declare while citizens pointed out this should just be an act of normality in a country where transport infrastructure is still poorly developed despite billions of EU funds available for modernization.