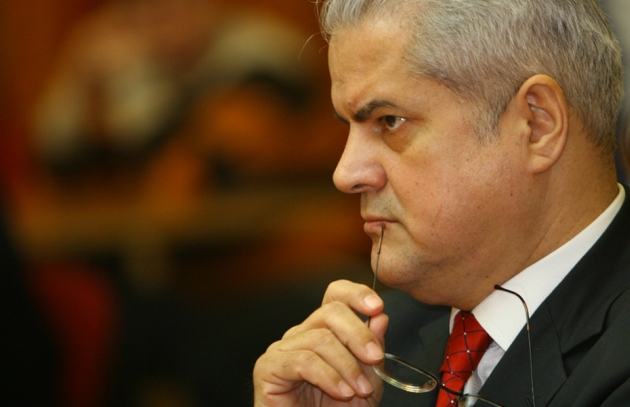 Bucharest, February 14, 2015/ Independent Balkan News Agency
By Daniel Stroe
Two heavy weight politicians opened and closed this week's news – Elena Udrea, the feminine star of the Romanian politics who finally went behind the bars on Tuesday evening, and Miron Mitrea, a former staunch man of once the strongest politician in Romania, Adrian Nastase, being sent to prison on Friday for two years. Their cases could confirm, if still needed, that nothing is going to be like it used to be in Romania, unless something else had spoiled the big picture.
The week could have been an accomplished one for the anti-corruption prosecutors at DNA (the National Anti-Corruption Department, the nightmare of Romanian politicians and officials) unless the senators had rejected a prosecution request submitted by the anti-organized crime division of the general Prosecutor's Office (DIICOT). Basically, the lawmakers shielded a fellow MP wanted by the prosecutors under charges of corruption, a practice which has always drawn the ire of the European Commission who harshly criticized it in each annual report on Romania's progress in the area of justice.
More specifically, liberal senator Varujan Vosganian is suspected of being part of an organized crime ring, abuse of office and accessory to embezzlement. More exactly, Vosganian is accused by prosecutors of using his former position of minister of Economy to force state owned Romgaz, the national gas provider, to sell under-evaluated gas to the chemical companies owned by Ioan Niculae, one of the richest businessmen in Romania. To everybody's dismay, Vosganian ended his speech before his fellow senators in tears, asking them not to lift his immunity. A little later, after the senators rejected DIICOT's prosecution request, in a renewed shocking attitude, Vosganian said "the vote today is a victory of democracy and dignity of the Romanian Parliament, as well as a chance to set the state powers on a balance we all wish for".
The vote annoyed the liberals, in a moment when their leader, President Klaus Iohannis, is seeking to oust social-democrat PM Victor Ponta from power and install a liberal-led government. At the same time, Iohannis is pulling strings abroad so that Romania enters Schengen this year, even if we are looking at a staged accession, air borders first and then ground and nautical ones. When his strategy relies on an increased anti-corruption fight, also highlighted by the latest report of the European Commission last month, the Romanian senators' act of shielding a fellow party member from corruption charges can only make a fool of his speech delivered in the Western capitals.
"The senators' vote shows they haven't yet fully understood the necessity of change I pleaded for both during consultations with the parliamentary political parties and the speech I recently held in the plenum of the Parliament. Before justice, here is only a single measure: respect for law, regardless of the person and position", Iohannis reacted on Facebook. Later on, in another intervention on social media, Iohannis called for simpler and more transparent rules for MPs to be deprived of immunity if wanted under corruption charges. Prominent liberal figures called on Vosganian to resign to rid the party of the shame.
Despite the Vosganian's case, the DNA scored big this past week. On Tuesday, Elena Udrea, the most famous woman in the Romanian politics, was detained under corruption charges. The following day, on Wednesday, judges at the High Court confirmed an arrest warrant for 30 days. Udrea is being investigated in two major files – the Microsoft, where numerous other big names of the Romanian politics are also cited, and the Gala Bute cases. Udrea is charged with taking a 500,000 Euro bribe from a former Romanian tennis player, Dinu Pescariu, who is also investigated in the same file, in return for her alleged intervention to relieve the latter of his judiciary problems. She denies having taking bribe or having resorted to peddling of influence and blames the home intelligence service SRI of setting her up. In the other file, related to Gala Bute (an international boxing gala held in Bucharest in July 2011 and which was centered on Lucian Bute, a former Romanian middleweight champion), Udrea is accused of fraudulent use of state funds while she held the position of Regional Development minister.
As concerns the latest grab of the DNA, Miron Mitrea, he was yesterday sent to two years in prison, a final and irrevocable decision. Mitrea already reported himself to the Constanta County Police to be taken to prison. He evaded being incarcerated in Bucharest after changing his address days before the court's final verdict. If Udrea and Vosganian are suspected of peddling influence and playing big in the behind the curtain affairs, Mitrea was convicted for accepting a 300,000 Euros bribe, but not in cash. To keep an official in a high position at the state construction agency which Mitrea directly supervised as minister of Transport, he accepted the bribe in the form of renovation works done at his mother's house. Mitrea, along Viorel Hrebenciuc, also arrested for large scale corruption, were, until years ago, one of the most influential politicians in post-communist Romania.