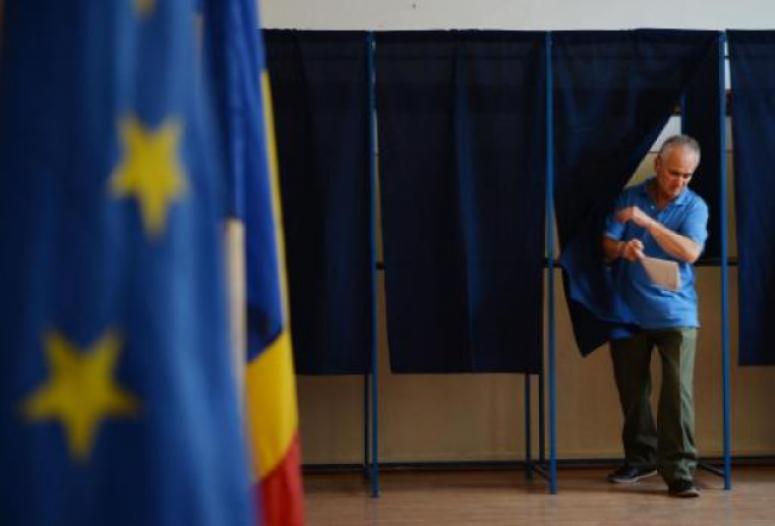 By Daniel Stroe – Bucharest
About 18 million Romanians are expected to head to the polling stations tomorrow in the seventh presidential elections since the fall of communism, with 14 contenders vying for a very influential political position which Western allies hope will be used to continue reforms which have consolidated over the two terms office of outgoing President Traian Basescu, elected in 2004 and currently the longest serving leader in the European Council.
Out of the 14, two are expected to make it to the runoff on 16 November, social-democrat PM Victor Ponta, Basescu's political rival, and Klaus Iohannis, German ethnic mayor of Sibiu, a city in central Romania which was the European cultural capital in 2009. Polls show Ponta would win the second round, but analysts say the race is not over yet, with new political camps formed after the first round likely to tip the balance. The two will probably try to draw voters from the third and fourth placed candidates, among whom anti-corruption crusader Monica Macovei, a lawmaker in the European Parliament and a former minister of Justice in Basescu's first term.
The campaign was largely overshadowed by ample anti-corruption investigations launched by the National Anti-Corruption Department (DNA), striking any of the political parties in Romania, but mainly Ponta's camp, and revelations about the latter allegedly having been recruited by Romania's external intelligence service SIE back in 2009, when he was a prosecutor. The revelations were made by Basescu who argued Ponta's recruitment was illegal since he was a magistrate at that time. On Thursday though, Ponta's case seemed to have been buried by a range of pictures published by an anonymous blog, later deleted, showing Basescu backed candidate Elena Udrea shopping in Paris alongside Alina Bica, the head of a organized crime fighting division of the General Prosecutor's Office.
Udrea was quick to accuse SIE of being behind this stakeout operation. Basescu went even further and alleged a French secret service is also involved. He ruled out the possibility of paparazzi tailing the three women and pointed at a professional job. "This is an operation that a Romanian and a French secret service collaborated", he concluded, saying that "no Romanian agent could have gone to the hotel reception and had the receptionist look for an accommodation invoice seven months before". "I will absolutely ask for official information, this will not stay like this", he concluded.
He warned though some leaders of the Romanian intelligence establishment have got involved in the electoral campaign. "They don't mind their business, this is a bad signal", Basescu pointed out, adding he would summon the directors for explanation after the first round. Speaking again last night, the president said he had called on the Romanian intelligence to inform him about who commissioned the stakeout operation which he said was probably after Bica. "If it is not a Romanian stakeout, with all the power you have, tell me who it is then in a few days (…) I am not pointing a finger at any of the Romanian secret services", Basescu added.
Amid such scandals, the electoral campaign was deprived of serious debates on economic projects, despite Romania undergoing a technical recession, sparked by a hike in special taxes and a decrease of foreign investments amid an unstable situation in neighboring Ukraine. Romania is still slated to have a 2.4 % economic growth this year, according to the IMF, but needs to make stronger efforts to draw EU funds, which remains a serious economic drawback in the country which joined the EU in 2007.
No public debate was organized over the electoral campaign before the first round on Sunday, which again highlights the Romanian political class' lack of maturity and citizen oriented approach. Both Ponta and Iohannis tried to allure voters by economic promises – Ponta said he would raise the minimum wage, while Iohannis said he would cut down taxes and bring the VAT down from 24 to 19 per cent, as was before the austerity package passed in 2010. If Ponta becomes the next president, he will have to resign from the prime-minister's position and pass over the helm of the social-democrat party which will probably spark infighting, especially amid large scale corruption investigations which have sent shockwaves across the party.
Ponta will still have to burnish his image among Western partners after the erratic political behavior in 2012 when he tried to oust Basescu from power by gravely encroaching upon democratic and rule of law principles, drawing fire from the EU and USA. His party also raised eyebrows late last year when it sought to pass a law on amnesty, prompting the US administration to send some envoys to Bucharest to discourage such attempts. Ponta's image was also seriously damaged by a plagiarism scandal which died down eventually. Ponta will also have to live up to the foreign affairs expertise Basescu has shown over the past ten years, when he built a strong partnership with the United States and played an active role in the EU.