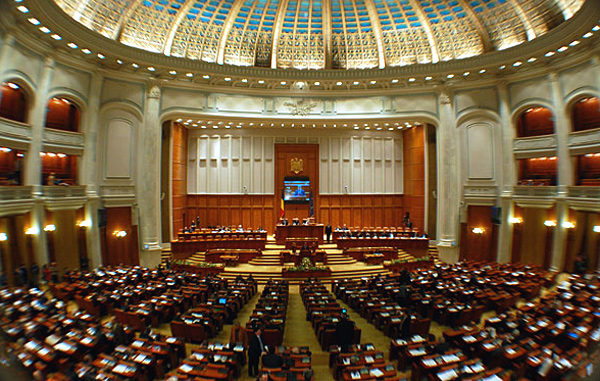 By Daniel Stroe – Bucharest
A series of statements made by Romanian leaders amid rising tensions in neighboring Ukraine have been misinterpreted by the public as a military call-up and it was only late this week that officials dismissed such fears among the citizens. As the instability in Ukraine extends to its south-western regions, closer to Romania, America warns again against risks corruption poses to the national security and points the finger at the neighboring country as the best and most recent example.
Speaking about redistribution of military capabilities across NATO's Eastern member states, President Traian Basescu also mentioned discussions Romanian leaders had in the wake of the tensions in Ukraine. "We raised the problem of an analysis of our capacity to call up reservists. We have a very big problem because many of them are left abroad to work. We will have to rebuild our capacity to call up reservists if necessary" he said recently. Basescu also urged continuation of Romanian Army capacity build up investments.
Reacting to Basescu's statements, PM Victor Ponta criticized the statements on reservists. "I believe we shouldn't start a panic, in the 21st century we should talk about technology and not the number of soldiers (…) Speaking about reservists is not a serious things" he said. Despite this reaction, on Saturday, while visiting a plane factory in Craiova, SW Romania, Ponta said that "a war is in store for us" and, consequently, he told the plant employees "the good news" is they will have plenty of orders.
Some media in Romania rushed to announce reservists have started receiving mobilization orders. They referred to situations in various parts of the country where reservists are said to have been summoned by the army personnel units. But the Romanian Ministry of Defense dismissed rumors about an underway process of mobilization of reservists or recruitment of young men amid growing instability in neighboring Ukraine, after a series of speculations in the media.
The ministry explained an official document some media quoted when referring to the so-called mobilization or recruitment process merely stipulates the necessity for an improved medical certificate young men about to go through the recruitment-conscription process have to present military medics. This recruitment-conscription process envisages all the high-school age young men and it merely consists in registering them and doesn't concern men who already served under colors. Romania abolished mandatory military service in 2006, two years after it joined NATO.
It further pointed out the necessity "to avoid falling into the trap of a psychological war" concerning the Romanian army's operational capabilities or Romania's involvement in a military act on Ukraine's territory. This reference comes after radio station Russia's Voice, the Kremlin's mouthpiece, alleged the Romanian army can be easily defeated due to old military equipment.
Still in the shadow of the unfolding events in Ukraine, a high ranking US diplomat descended to Bucharest this past week to give Romanians a new warning. Hoyt Yee, deputy assistant secretary in the State Department's Europe and Eurasia Bureau, met with leaders of parties across the political spectrum with talks focused mainly on corruption and the risk it poses to the national security amid dramatic events in neighboring Ukraine.
The US official's visit comes shortly after secretary of State John Kerry criticized, in a speech delivered in February, what he calls a "disturbing trend" among governments in eastern and central Europe to "trample the ambitions" of their people. Speaking at an international security conference in Munich, Germany, Kerry said: "The aspirations of citizens are once again being trampled beneath corrupt, oligarchic interests — interests that use money to stifle political opposition and dissent, to buy politicians and media outlets, and to weaken judicial independence and the rights of non-governmental organizations."
So what lies behind the warning of the US State secretary and the same message brought to Bucharest by Yee? The answer came from one of the participants in the meeting with the diplomat, Mihai Razvan Ungureanu, former minister of Foreign Affairs and leader of the rightist Civic Force. Russia occupied and then annexed Crimea without firing a single bullet, but only after it used the corruption weapon to control media and political vectors. The same risk lies around the corner for Romania and other countries in SE Europe, Yee would have warned.