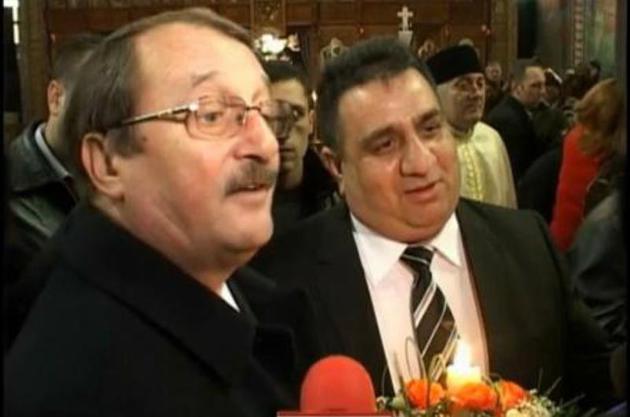 By Daniel Stroe – Bucharest
A huge scandal with political connotations erupted this week in Romania after the Romanian President's brother was arrested by the anti-corruption investigation in a case which seems to have been tailored after a Hollywood drama, with stacks of money and shady Roma businessmen involved to the embarrassment of the head of country whose send term ends this year.
The scandal broke out after a TV station aired a video on Wednesday allegedly showing the President's brother, Mircea Basescu, negotiating the release of Sandu Anghel, aka Bercea Mondialul, a Roma businessman now serving an eight years prison term after stabbing a nephew, with the latter's son. Mircea Basescu today denied he had asked for or accepted money to intervene by his brother, the President, and secure Bercea's release from prison. The footage was aired last night by Antena 3 which is owned by media tycoon Dan Voiculescu, the president's political arch-rival and henceforth the whole case gained political connotations.
But the premises of the scandal were felt as far back as a month ago when Bercea's son-in-law was arrested for blackmailing Mircea Basescu. He had asked for money in return for supposedly keeping some secrets. Bercea's son later explained his brother-in-law was actually trying to recover some money his family would have paid to Mircea Basescu to secure Bercea's release. Mircea Basescu baptized one of Bercea's granddaughters in 2010.
Publicly reacting on Thursday, the Romanian President Traian Basescu rejected any interference in justice's affairs to help Bercea Mondialul and pointed out justice has to decide in this case. But the President pointed out he regrets his brother joined "such an entourage".
"I am confident justice will reveal the truth in this public dispute between my brother and Sandu Anghel's relatives" he added, underlining "I hope my brother's side of story is real". Basescu ended his statement almost in tears, saying that "between the need to consolidate justice and the natural reflex of protecting the brother, I choose consolidation of justice".
The prosecutors' file says Mircea Basescu used his kinship to resort to influence peddling for which he received 250,000 in return. The document also highlights Basescu used a cash machine to count the money in a flat in Constanta where he resides.
PM Victor Ponta, Basescu's political rival, rushed to call for the President's resignation. "Basescu's resignation would be a good gesture to protect the justice" Ponta said. On Friday, Ponta lowered the tone and argued justice has to have the final say in this case. The scandal is though another solid proof the political fight ahead of this fall's presidential elections will be a tough one, with all the scenarios open.
It is still unknown why the scandal broke out now, a few months before the presidential elections in which Romanians have to choose Basescu's successor, since the apparent negotiations between Mircea Basescu and Bercea's son took place in 2012. The timing of the video release raises many questions. Many analysts say the scandal was carefully orchestrated to compromise Basescu's legacy, namely a decade of justice reform which has spurred the anti-corruption fight, and minimize his political influence over the electoral campaign before the elections in November.
Late last night, Bucharest Court decided Mircea Basescu shall be arrested for 30 days, but the decision can be appealed. Along with him was arrested the in-between. DNA said the whole amount of money involved in this case is 600,000 of which about 350,000 was kept by the in-between.  The scandal is yet to continue, with all eyes on the head of state and how he will continue to position himself.