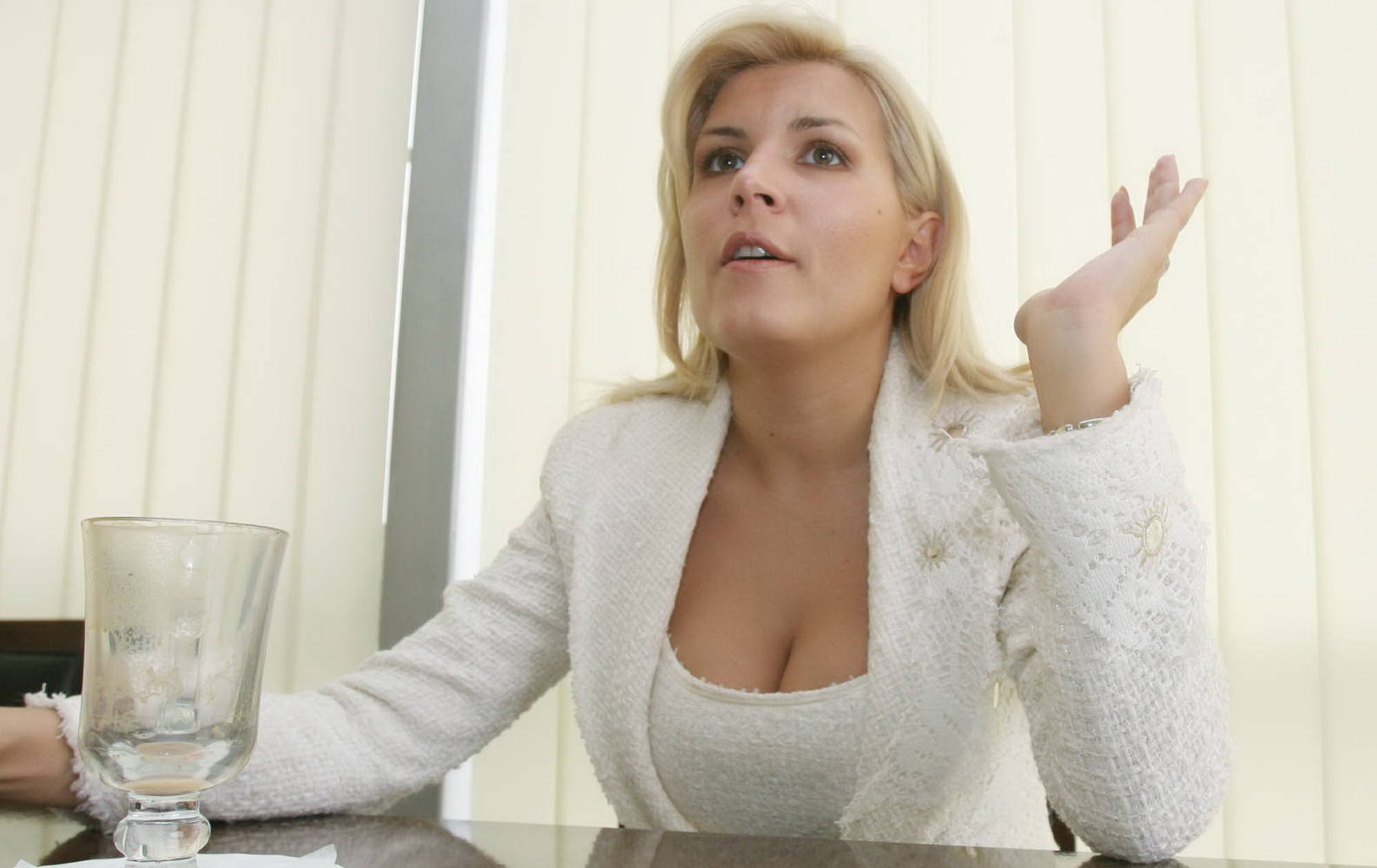 Bucharest, January 31, 2015/ Independent Balkan News Agency
By Daniel Stroe
Friday night caught the Romanian politics in a vortex of information and accusations launched by Elena Udrea, former presidential adviser and presidential candidate last fall and currently leader of rightist Popular Movement Party. Udrea, under judiciary control since prosecuted for money laundering and false testimony in her assets declaration, is now pointing the finger in different directions, one leading to the intelligence establishment.
Udrea, a posh appearance on the Romanian political stage, has largely symbolized the ascension of the women in a male dominated politics. Developing in the shade of former President Traian Basescu who supported her vigorously in the presidential competition last fall, but which ended after the first round, Udrea, now a lawmaker, has become an influential voice on the rightist side of Romanian politics. Her future bolded well…until National Anti-Corruption Department (DNA) prosecutors knocked on her door. Figuratively, because she was summoned to DNA for questions in a so large file in which her former husband, Dorin Cocos, is also involved, along scores of other politicians – the Microsoft file.
In brief, DNA accuses Elena Udrea she knew her then husband raised huge amounts of money by peddling of influence in the Microsoft file, money which she is said to have also benefited from. Yesterday, she reported herself to a police section in Bucharest, a regular pilgrimage she will have to do weekly since under judiciary control. "I will tell the truth about what's going on", she wrote on her Facebook wall. A little later, she gave an interview to the news website Hotnews where she started throwing accusations around.
What stood out is her saying she has filed a denunciation at DNA accusing Romanian home intelligence service SRI of orchestrating this smear campaign against her. She also accused the service's interim-leader of asking for 500,000 Euros from her former husband to be then given to a Romanian media tycoon, Sebastian Ghita. She also alleged she had intervened by PM Victor Ponta so the latter accepts the nomination of current head of DNA, chief-prosecutor Laura Codruta Kovesi. SRI declined to comment on statements made by prosecuted people, all the more in a case where the service was actively involved in. Ghita also rejected accusations.
Besides the names involved in this file, Udrea's finger pointing underlines the concatenation of interests that rally Romanian politicians together, despite different sides on the political stage. It is still unclear whether Udrea's alleged confession is based on real facts or is just a desperate effort to put pressure on other people so she saves her own skin. Her words come amid an increased anti-corruption campaign which has seen dozens of politicians, businessmen and even magistrates either sent behind bars or placed under criminal investigation in an unprecedented drive to root out graft in Romania. At the same time, the scandal comes days after the European Commission praised the activity of the anti-corruption institutions.
Also this week, Romanians were left bewildered by the sudden resignation of the head of SRI, George Maior, a man of few words who seemed solidly put in his position. Without any explanation, Maior submitted his resignation, accepted by the Romanian President Klaus Iohannis. Maior (47) was appointed director of SRI in 2006 by then President Traian Basescu who preferred to appoint heads of the intelligence services from the opposition ranks. Maior was then a member of the social-democrat party now led by PM Victor Ponta. He has been very active in reforming the secret service as Romania gained more importance as a NATO ally and the fight against corruption picked speed and force. SRI is coordinating a NATO working group tasked with ensuring Ukraine's cyber-security, as decided at the Alliance summit last fall.
Some clues surfaced about reasons behind Maior's resignation. His decision comes amid a fierce debate in Romania on the so-called Big Brother laws – data retention and obligation for PrePay cards users to register – a year after the Constitutional Court rejected both draft laws as unconstitutional. The debate was reignited by the terror attacks in France this month. A week ago, Maior criticized the Constitutional Court for striking down the two laws which he said were necessary for protecting Romania and later on, judge Augustin Zegrean, head of the court, denounced pressures exerted by SRI. Both SRI and SIE (Romania's foreign intelligence service) are now led by interim heads, which prompted many to ask President Iohannis to speed up the process of naming trustworthy and competent leaders at the helm of the two services at a time when regional instability poses major risks to national security.
It is still unclear why a man who has reformed the country's main intelligence service has left the job out of the blue. The debate on increasing powers of secret services in the wake of Paris terror attacks is spreading all over Europe so it is unlikely Maior resigned due to contradicting visions with the Constitutional Court. The gesture may be related to underway political fighting in the Romanian Parliament which aims to topple Ponta's government. President Iohannis made no secret of his intention to have a liberal government from his own political side.