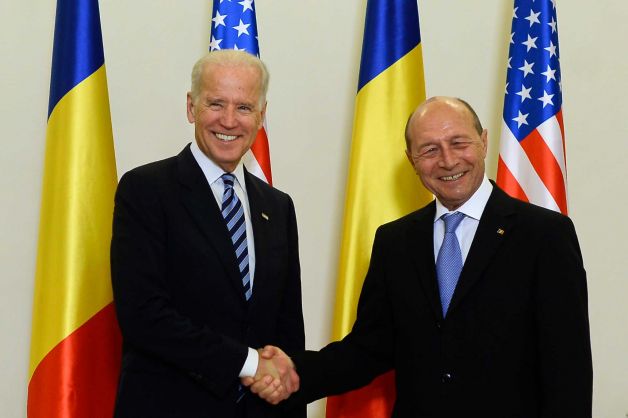 By Daniel Stroe – Bucharest
Romania took this week a short break from the usual and sterile political bickering to receive US Vice-President Joe Biden whose appearance in Bucharest is not random at all, but coincided with the growing tensions in neighboring Ukraine and renewed attempts in Bucharest to rein in anti-corruption fight.
Biden's visit came amid a passive electoral campaign for the European Parliament elections this Sunday. With many of the debates turned into political attacks between the rival camps, the campaign left nothing behind in terms of agendas and programs for the next European legislature. A usual image in post-communist Romania where parties are eager to attack each other rather than come forth with solid ideas and projects. The vote on Sunday is therefore more likely to follow the same pattern of party vote rather than a vote for candidates. The social-democrats are expected to win the elections which will most likely be followed by a regrouping of the parties, especially on the fragmented right side, and will mark the beginning of an ever fiercer political fight for the presidential elections in November.
Biden came to Bucharest with the very message of support for its Eastern ally amid tensions in Ukraine which worries Romania and raised the prospect of further provocations from Russia on its borders. But Biden assured Romania of USA's commitment to protecting it in the face of a possible aggression from Moscow. "One of the main reasons why I came today is to stand on Romanian soil and say what cannot be said often enough.  We will honor — we will honor Article 5 of the NATO Treaty.  It is a sacred obligation.  There should be no doubt about it.  It should not be in question.  No NATO ally stands alone.  We protect one another.  Period.  We protect one another.  Period.  End of discussion" he pointed out.
The US Vice-President also ensured Romanian officials the anti-missile shield to be installed in SW Romania, at Deveselu Base, will become functional as of late 2015, as the initial schedule provided. A series of speculations surfaced lately about the shield being affected by cuts in the US defense budget and that may delay its operational debut, even if officials in the US embassy in Bucharest denied those reports.
But Biden's firmest message was delivered in support of the anti-corruption fight. Following a surge in anti-graft efforts in Romania which saw influential politicians being either arrested or placed under criminal investigation, politics reacted and tried to muzzle anti-corruption prosecutors by attempting various laws meant to curb their powers. Biden is just the latest and highest profile US official to come to Bucharest with the strong message of support for anti-corruption fight.
"Corruption is a cancer, a cancer that eats away at a citizen's faith in democracy, diminishes the instinct for innovation and creativity; already-tight national budgets, crowding out important national investments.  It wastes the talent of entire generations.  It scares away investments and jobs. And most importantly it denies the people their dignity.  It saps the collective strength and resolve of a nation. Corruption is just another form of tyranny" Biden said in the speech that wrapped up his two day visit to Romania, in front of politicians, civil society and students.
Pointing to Ukraine, the US Vice-President also warned "corruption can represent a clear and present danger not only to a nation's economy, but to its very national security".  Under these circumstances, "there are nations, and we've seen it recently, that exploit corruption to exercise malign influence and undermine the very sovereignty and independence of their neighbors", Biden added, hinting at Russia. In Ukraine, he further said, "corruption literally has hollowed out their military institutions and weakened that country's very capacity to defend itself".
Biden's words were a direct warning to PM Victor Ponta who is allegedly under a lot of pressure from party members following the anti-corruption offensive which has mainly envisaged his fellow social-democrats. Ponta seeks to become the country's next President and succeed Basescu who leaves power after a decade at the helm of the country. But a head of state that is susceptible of bending in the face of political pressure from his own party is not an encouraging prospect for the United States which installed military facilities in Romania and expects Bucharest to play by the rules.
The week also marked two important inaugurations: Romania launched its first post-communist built locomotive and the first high-speed train received green light to go into public use. Memorable remain the words of the visiting Czech President, Milos Zeman, who was in Bucharest this week. Zeman was confused by economic statistics presented to him and wondered how the Czech Republic, at a population of 10.5 million, has 5 million employees and an unemployment rate of 6,9 %, while Romania, at a double population, has 4.5-5 million employees and an unemployment rate of 7%. "This is an economic non-sense (…) which can be explained by two suppositions: first, the black labor market and the second, an amusing one, you have many pensioners and youth" Zeman said.