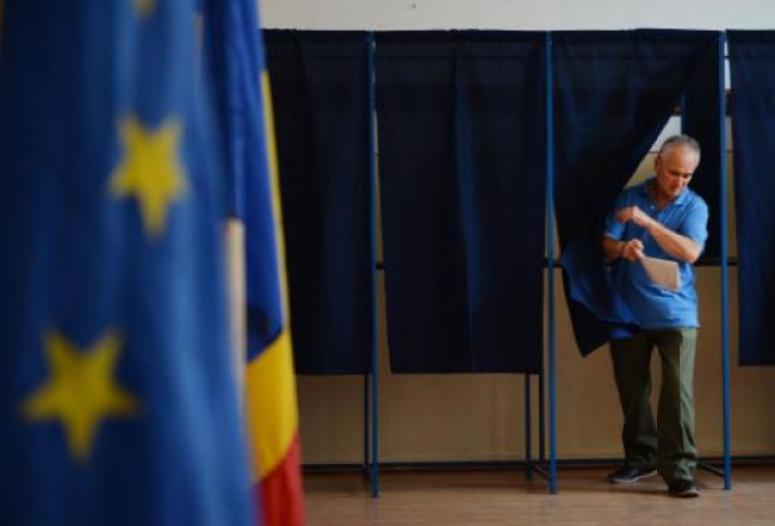 By Daniel Stroe – Bucharest
The electoral campaign is now in full swing in Romania before the first round of presidential elections on 3 November in which 12 contenders will seek to win the top job in the country after a decade of political domination of outgoing President Traian Basescu who has significantly marked the country's pro-Euro-Atlantic course and watched over a period of far-reaching reforms.
Banners, posters, fliers, ads on TV, radio and Internet and in written publications, meetings across cities and towns – the clues are out there as you walk out, the 30 days electoral campaign has started in Romania ahead of the 7th presidential elections in post-communist Romania. Over the next month, 14 candidates, ranging from notorious political names to low profile contenders, will try to make it to the run-off on 16 November. More than 18 million voters are expected to the polling stations, with presidential elections raising the most interest among citizens, after years of low turnout.
The favorite is PM Victor Ponta, head of the social-democrat party (PSD), a popular figure in the country, but contested abroad. A day before the campaign started, US assistant secretary of State for Europe and Eurasian Affairs, Victoria Nuland, sharply criticized leaders in Central in Eastern Europe who, taking advantage of the NATO and EU membership, ignore democratic values while protecting fellow corrupted politicians from being held accountable. Even though she didn't mention any names, analysts say it is crystal clear Nuland envisaged Romania and Hungary in her speech.
Her warning comes only a week after she met Romanian PM Victor Ponta who was on a visit to the United States. Ponta's name has also surfaced in the Microsoft corruption scandal even if the National Anti-Corruption Department has said the PM has "for now" no status in the corruption investigation. This is not the first time US officials chastise undemocratic practices in Romania, previously warning against a worrying trend citizens' aspirations are trampled by corrupted oligarchs' interests. Nuland was urgently dispatched to Romania in January, a month after then Ponta-led ruling coalition tried to pass a law on amnesty for officials under investigation for corruption. Ponta was also in the spotlight of the West in the summer of 2012 when he led efforts to oust President Traian Basescu, his political arch-rival, by encroaching upon fundamental democratic and rule of law principles.
Second comes Klaus Iohannis, German ethnic and mayor of Sibiu, a city in central Romania. As Iohannis launched his bid for the presidential office, an out of the blue debate started in Romania, but quickly fading away, on whether the country should have a non-Orthodox and an ethnic minority representing president, which many blamed on PSD. Iohannis' program, called "the well done thing Romania", aims to reach 11 targets, among which performing agriculture, European like infrastructure and support for the Republic of Moldova's pro-European course. Iohannis has yet to await a second verdict on an incompatibility file opened against him.
Ponta is leading Iohannis by 57 to 43 in the run-off, according to a recent poll done by an institute close to the PM. Another poll reveals Ponta would win the second round with 56 per cent of the votes, while Iohannis would get 46 % of the votes. All the combinations for the second round gives Ponta as winner of the presidential office.
Two women are also eyeing the top job in the country – Elena Udrea, head of the Popular Movement Party (PMP), endorsed by President Basescu, and Monica Macovei, former Justice minister and a key reformer in post-communist Romania. Polls show that about 48 per cent of the Romanians would vote for a woman at the helm of the country, even though in polls the two women only score one digit results.
The other candidates are Calin Popescu Tariceanu, Senate speaker and former PM during Basescu's first presidential term, Kelemen Hunor, head of the Hungarian ethnics political party UDMR, Teodor Melescanu, until two weeks ago head of the country's external intelligence service SIE and whose candidacy was launched on the last leg of the registration period, Dan Diaconescu, a TV propelled political star who managed to steer his party – People's Party – into the Romanian Parliament two years ago, far right leader Corneliu Vadim Tudor, who ran in all the campaigns and made it to the run off in 2000, socialist Constantin Rotaru, Mirel Mircea Amaritei, a quasi-unknown politician, Szilagyi Szolt, another Hungarian ethnic, Gheorghe Funar, another far right politician and former ally of Vadim Tudor, now rivals, and William Brinza, running for the Romanian Green Party.