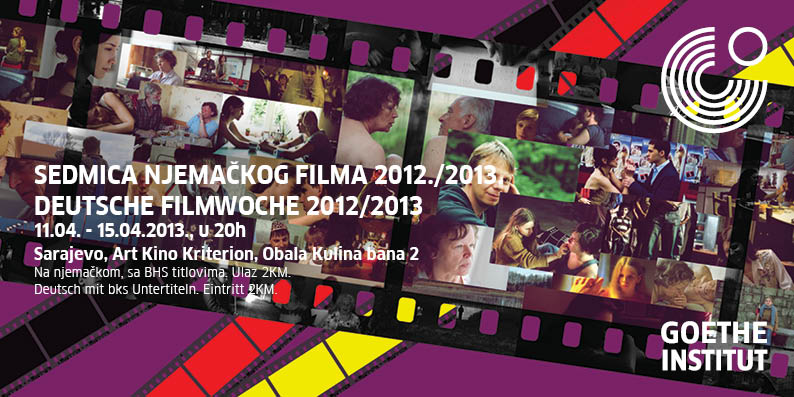 By Medina Malagić – Sarajevo
A week of German film screenings took place in Sarajevo from 11-15 April at the Art House in Kriterion in Sarajevo in cooperation with the Goethe Institute of BiH.
While the German films in Sarajevo were exclusively screened in Art House Kriterion, films were also shown in several cities throughout BiH.
The Goethe-Institute has been taking part in organizing the week of German films in BiH for several years. This year, the dominant themes of the selected films were love, friendship and various facets of life.
The fact that German film week has been an ongoing collaboration since 2008 is indicative of the popularity, appeal and success of this week-long festival.
Regarding this year's German film week, the PR Coordinator for Kriterion Selma Mujagić said, "German film week went really well. During these five days, over 300 people visited Kriterion, mostly middle-aged people who are serious about film. The films werw well accepted and talked about, and we are planning to continue this great collaboration with the Goethe-Institute Sarajevo''.
Ajla Eljšani-Arnautlija, the Coordinator for Cultural Programs at the Goethe Institute of BiH, said that for the five-day duration of the festival around 185 guests attended.
She said that all five films that were screened during German Film Week have won awards, and regarding the selection of the movies, what was important was to demonstrate the themes with which the directors deal, ranging from comedies to love stories
German Film Week kicked off in Sarajevo with a showing of "Soul Kitchen" by world-renowned Director Fatih Akin. Akin, who is known for his drama films that portray the volatile and tense relations between Turks and Germans, makes a divergence with an offbeat comedy that is replete with humorous situations centering onevents taking place in a restaurant.
The second movie that was shown during German film week, 'Die Fremde' (When we Leave)is a drama that focused on the protagonist, a young German woman of Turkish heritage who escapes her abusive husband in Istanbul with her young son and is treated with contempt and derision upon returning to her parents and brothers in Berlin. While the theme of this movie is reminiscent of a Fatih Akin movie, the director of 'Die Fremde' is FeoAladag from Austria. This highly charged movie delved right into the tense struggle that inevitably arises from the confrontation of traditional and unchallenged community values and the desire for individual choice and liberation.
The following three movies that were shown were Sehnsucht (Longing) by ValeskaGriseback, Blindgänger (The Blind Flyers) by Bernd Sahlig and WolkeNeun by Andreas Dresen. Sehnsucht is another drama piece that follows a much simpler pace than the emotionally charged 'Die Fremde'. It is a film about love and devotion that is portrayed in a different way than many romance films today, with little dialogue and a more existentialist mood. Blindgänger is a children's movie with atypical young protagonists, and WolkeNeun is a romantic drama about a woman who leaves her husband for another man after nearly 30 years of marriage.
All of the movies screened during German Film Week featured Bosnian/Serbian/Croatian subtitles.