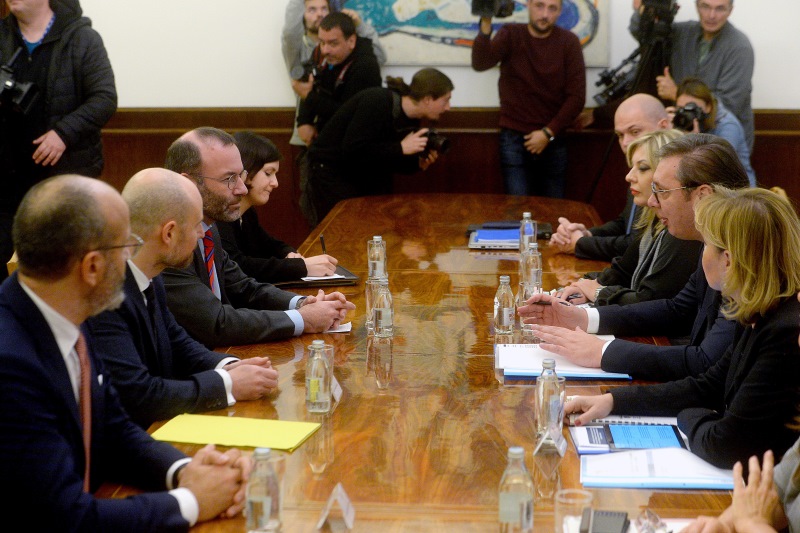 Serbian President Aleksandar Vucic met today with a European Parliament delegation, which consisted of the European Parliament rapporteur on Serbia Vladimir Bilcik as well as the European People's Party (EPP) leader Manfred Weber.
At a press conference following the meeting, Vucic thanked Vladimir Bilcik for travelling to Belgrade for a second time in such a short period of time, and Manfred Weber as well, calling him "a great friend of the region".
Vucic stated that the discussions included issues related to Kosovo and the economy in Serbia.
"I can brag about Serbia's economic progress. We are trimming down the sovereign debt; the unemployment rate; we are coming closer to the EU countries. We are always ready to discuss and explore compromises, one of them being, amongst others, the Kosovo issue", the Serbian President noted.
Vucic stressed that Serbia wants to open new chapters in the accession negotiations, but also to clearly understand the EU countries' vision regarding the future of the Western Balkans.
"It is crucial to me that Serbia continues its European path. We have 67% trade exchange with EU. We will have higher economic growth than expected, as we project a 3.9 or 4% growth rate. That would make us one of the European countries with the largest growth rate. At the same time, we reduced the public debt to GDP ratio. We have curtailed the unemployment rate to less than 10%, which brings us closer to EU countries", Vucic underlined. He added that a compromising solution with Kosovo is something that Serbia is ready to look into.
As for the forthcoming parliamentary elections in Serbia in the Spring of 2020, Vucic noted that he would do his best to create a better environment than the one in the 2012 elections, where his opposition party could not even appear in the media.
For his part, Manfred Weber pointed out that "Serbia's European perspective is clear".
"Our presence here comprises a positive message both for Serbia and for the wider region. It was a big mistake to stop the process for North Macedonia and Albania and it was a shame for the whole region. We are currently facing some challenges; we have an ongoing process of developing democratic principles and ideas. It is not something we can teach. Yet we share the ideas of a European lifestyle and we must fight for it. I am glad that Serbia is doing so well because it is important for us politicians to live up to your expectations", Weber said.
Speaking about Serbia's European integration process, Weber said that the country's modernization, the fight against corruption, freedom of the media, the rule of law, independence of institutions and other initiatives are very important, as they comprise common European values. "I see the readiness. The President is ready to bring Serbia closer to the EU", he added.
Asked whether the delay in opening funds pushes Serbia into Russia's lap, the Serbian President noted "We have four chapters ready. Realistically, it will be one. We have won a lot. We are on the European course, but first and foremost we make it clear to the Westerners that we want to have good relations with Russia and China", adding that his priority is Serbia's interests and pride in maintaining good relations with everyone. /ibna