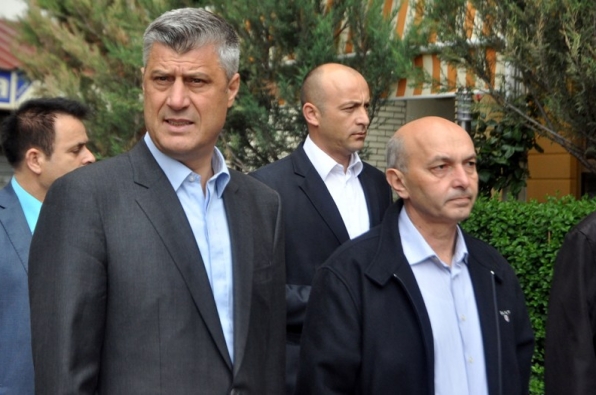 IBNA Special Report
Pristina, August 22, 2014/Independent Balkan News Agency
By Elton Tota
Kosovo's Agency Against Corruption has published the declarations of wealth relating to members of parliament. These declarations show that in contrast to common people, politicians live a luxurious life.
The majority of them have high salaries, villas, expensive cars and in general, a high standard of living.
The poorest politician, who still lives on a rented house is the leader of Self Determination, Albin Kurti. Up until a while ago, the party that he leads had modest offices, while now, it has a contemporary building in the city center.
Acting prime minister, Hashim Thaci, who is also an MP in the current parliament, has declared a house which is being built with an area of 220 thousand square meters and 250 square meter agricultural land  with a value of 80 thousand Euros. He also has a country home which he has inherited.
Thaci has also declared a VW Passat type vehicle with a value of 13 thousand Euros, but which is owned by his wife. In the self assessment that he has filled, he has declared that he doesn't possess any company shares.
As far as cash is concerned, the prime minister declares that he has 2035 Euros or 400 Euros less than last year. Meanwhile, the amount of cash belonging to his wife has gone up by 1800 Euros. The prime minister has also declared a loan amounting to 100 thousand Euros for the construction of his home.
His annual salary is 17.318 Euros, while that of his wife is a little higher, around 18 thousand. The post of the speaker of parliament finds the head of the Democratic League of Kosovo richer than ever, not in real estate, but money available in the banks of Kosovo. He has 55 thousand Euros deposited in the banks of Kosovo. As far as real estate is concerned, he declares that he has inherited from his family a house with an area of 180 square meters, which has a value of 138 thousand Euros, an area of land which has a value of 365 thousand Euros and he has shares worth 20 thousand Euros at "Riinvest Institute".
Based on his declaration, he has been paid over 12 thousand Euros by the Commune of Pristina, 7 thousand Euros by the University of Pristina and 12 thousand Euros by the Academy of Sciences and Arts of Kosovo.
Meanwhile, the wealth of the leader of AAK, Ramush Haradinaj amounts to 500 thousand Euros. According to the report of the Agency Against Corruption, Haradinaj has explained that he receives a monthly salary from his party at a value of 1700 Euros and an invalidity pension that he receives from the Ministry of Labor and Social Welfare amounting to 225 Euros.
He has built a home with inherited money and the help of his fellow fighters, the value of which amounts to 300 thousand Euros.
Haradinaj has also declared that he owns 200 hectares of land, which he has purchased for 75 thousand Euros. He has also purchased another swathe of land with a value of 27,300 Euros.
Meanwhile, Albin Kurti has not declared any real estates or money in the bank. He has only declared his annual salary as an MP amounting to 17,856 Euros and 1,384 Euros from "Zeri" newspaper in the form of honoraries.
Leader of the Incentive for Kosovo, a party that he founded after leaving PDK, Fatmir Limaj, is a millionaire. Limaj has declared an apartment in Pristina amounting to a value of 80 thousand Euros, another apartment in Pristina with an area of 68 square meters with a value of 70 thousand Euros, a home with an area of 300 square meters with a value of 250 thousand Euros and 1310 hectares of land with a value of half a million Euros. He has declared that in 2012, he has sold an Audi A6 for 30 thousand Euros.
The head of Incentive has an annual salary as an MP amounting to 15.500 Euros, while his wife receives 5.388 Euros from her job at Sigal. The president of the country, Atifete Jahjaga has declared savings amounting to 71 thousand Euros, while her husband has only declared 400 Euros, but her car, a Skoda, amounting to 16,500 Euros is registered on her husbands' name.
***
In spite of the declaration of their wealth, many people are skeptic about their truthfulness. The media, public opinion and the political environment is filled with daily accusations for corruption and theft of state assets. Some people believe that the declaration of assets is nothing more than an official covering of the true wealth which is never revealed, a phenomenon present in many countries of the world. /ibna/