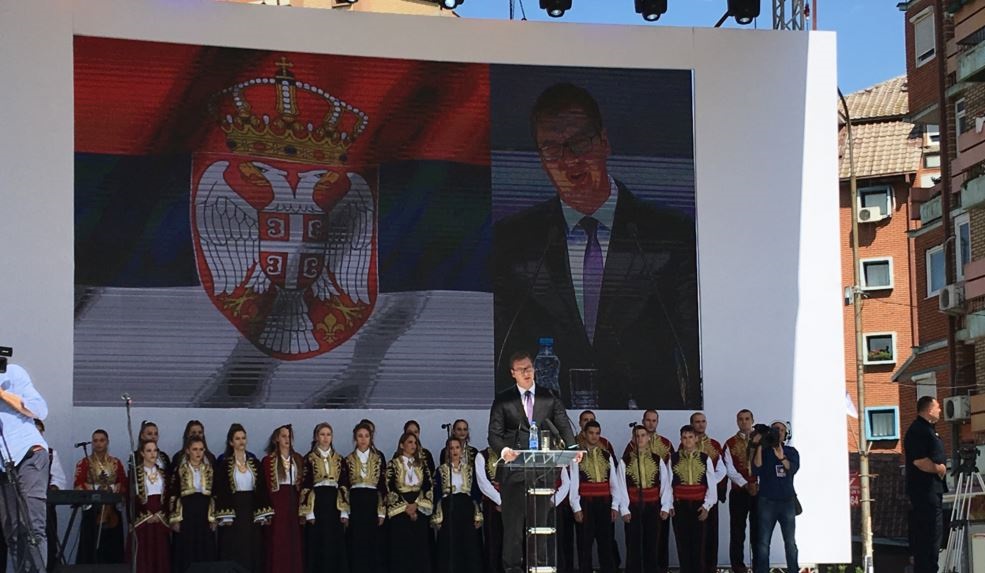 President of Serbia, Aleksandar Vucic on Sunday declared from Mitrovica that Serbia will not recognize Kosovo's independence, but he demanded compromise, which, according to him, means that nobody can win everything.
Vucic made these comments in a speech delivered in the northern part of Mitrovica at the end of a two day visit to Kosovo.
Vucic said that he could never imagine a Kosovo without Albania and even less, a Kosovo without Serbs. "This is why I don't promise weapons and ammunition although it's clear that we will never allow anyone to use weapons and ammunition against you", Vucic said.
He said that he's ready to hold talks to reach an agreement with Albanians in Kosovo, while dismissing claims that there's already a project ready for such deal.
"When they tell you that I want to change borders,  they are not telling you the truth, because where are these borders now? Albanians are larger in numbers and more powerful in Kosovo and they have a different opinion. A part of the world thinks differently from another part", he said, stressing that his aim is to change the rights that Serbs have in Kosovo.
"Those who claim that we will be forced to recognize Kosovo's independence by next year, then let me tell you that this is a lie".
The Serb president also wanted to visit the region of Drenica, but he was not allowed by residents of this area who had put roadblocks.
"15 thousand people were killed in the war, 1600 went missing, 128 from our commune. We're right in refusing his visit, because his visit is a provocation", said the mayor of Skenderaj, Bekim Jashari. /ibna/