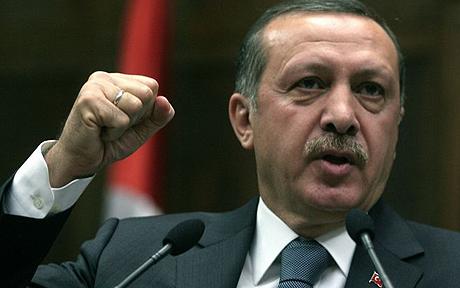 Review by Christos T. Panagopoulos
Turkish Prime Minister, Recep Tayyip Erdoğan, criticized heavily Egypt's political situation, expressing his disappointment about the recent military coup which took place in the country as well as the imprisonment of former Egyptian President, Mohamed Morsi.
"A military coup has been staged in Egypt, although they don't accept it. We have suffered a lot from military coups. We don't want our Egyptian brothers to suffer from [them] as well. That's the only matter", Mr. Erdoğan said during a fast-breaking event organized by the civil servants' union (Memur-Sen) in Ankara on Wednesday. "I hope that steps will be taken to end the chaos," he added.
Erdoğan's speech came a day after a rigorous demarche was made by the Egyptian Ministry of Foreign Affairs to the Turkish ambassador in Cairo "not to take sides in this conflict".
But Turkish PM does not seem to cherish this political point of view. "In no place of the world are those who stage coups remembered with benevolence. At first there are some toadies who emerge, but years after everyone ends up cursing them. That's also the fate that awaits [those who staged the coup in Egypt]", he said, sending also a message to all those who long for his government's fall.
Furthermore, he asked the Egyptian authorities to release Morsi, resenting the fact that his imprisonment constitutes a constitutional aberration.
Source: Hürriyet