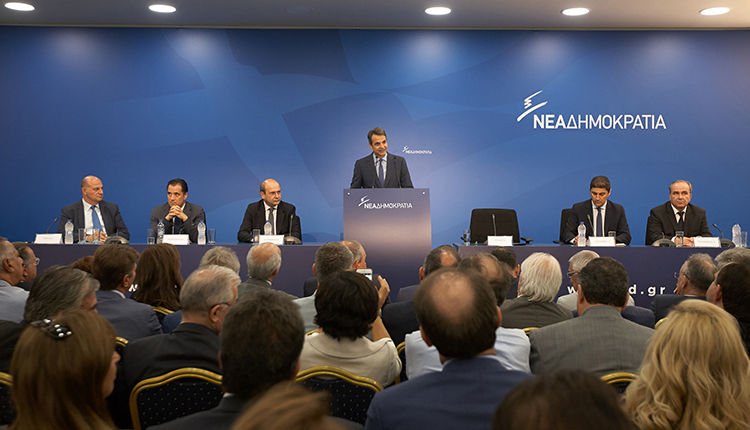 By Martha Lekkakou
By launching out and making a call to society, to the working classes, the unemployed, young people, vulnerable social strata, farmers, entrepreneurs, and those living in areas experiencing quality of life and safety issues, New Democracy is attempting to further reach out to society by organizing 7 minor conferences on vital issues before the party's main conference on 16 and 17 December.
This was announced by New Democracy's leader, Mr. Kyriakos Mitsotakis during a speech were he strongly criticized SYRIZA – ANEL Government. Speaking at a meeting with party leaders and officials, he described a process, open to the public, that will entail widespread involvement by the public along with the use of many technological innovations. The aim of the conference, as Mr. Mitsotakis said, is "to open the doors of the Party to new people and new ideas once again. To prove that we also have a plan, but also the human potential to realize it. "
Special focus is placed by New Democracy on the 7 minor Conferences, 5 of those are going to be held in the periphery and 2 in Attica, focusing on issues that are of major importance and which focus on the re-vitalization of the Greek society after 7 years of crisis. Mr. Kostis Hatzidakis, one of the party's vice-presidents had been appointed as the Chairman of the Organizing Committee of the Conference.
Interaction and new technologies in the 7 minor conferences
New Democracy they will be using new technologies, like, social media, the internet, Skype, micro-sites and το live – streaming in order to ensure the participation of those interested in taking part in these minor conferences while the party's leader, according to the information given via the party's headquarters, will not make a speech but he will be actively involved in the entire process by answering questions put to him by all the people, whether they are delegates or just ordinary members of the public via twitter.
In particular, the first pre-conference will take place on October 8 in Nikaia, a western district, a labor-town with significantly high rates of unemployment. The subject of the pre-conference will be titled "For the Workers and the Unemployed". The second pre-session will be held on October 21 in Patras and will be titled "For the Young". The 3rd Pre-Conference will take place in Ioannina and will be titled: "For those who need support and solidarity". The 4th Pre-Conference will be held in Heraklion and will be titled: "For Business and the Restart of Economy". The 5th Pre-Conference will be held in Larissa and will be titled "For Farmers and Development in the Periphery". The 6th conference will take place in Eastern Attica and will be titled "For the everyday life of the Greeks, their Safety and Quality of Life". The 7th conference will be held in Thessaloniki and will be titled "For a New Patriotism". As stated by Mr. Kostis Hatzidakis, the organizing force behind these initiatives ,"We are opening up New Democracy and we are providing a forum to all those affected while at the same time, we are attempting to promote a creative renewal of the party in practice"./IBNA
Source: The Greek Observer