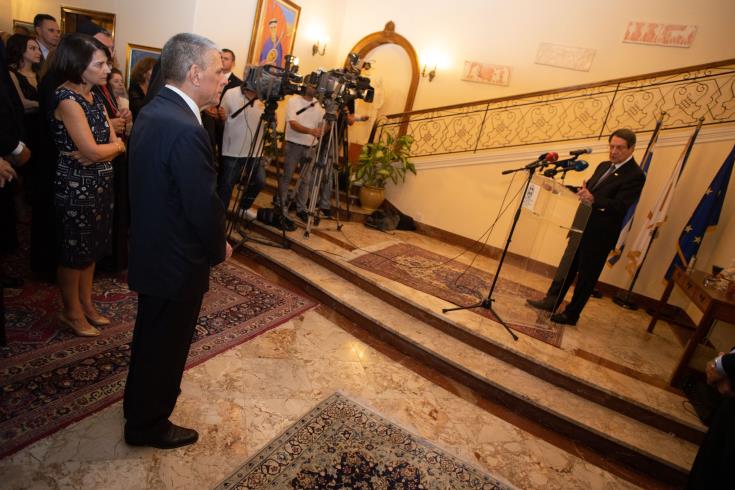 He spoke at the farewell reception of the Greek ambassador to Cyprus
By Michalis Michael
We continue to fight and insist on the dialogue, President Nicos Anastasiades said yesterday, noting that in order to have prosperity in the country there must be a peaceful solution that is fully in line with international law and European principles and values. Speaking at the farewell reception of Greek Ambassador, Elias Fotopoulos, at the ambassador's residence in Nicosia, President Anastasiades spoke of fraternal relations with the outgoing ambassador and their excellent cooperation, especially during the critical hours that the Turkish intransigence provoked", extending a the same time his gratitude and that of the Cypriot people.
"For the last four and a half years we have not only experienced the consequences of the economic crisis, but more importantly, we have worked together, fought to achieve the reunification of our country, in order to create the conditions that would allow us to say to the Cypriot Hellenism, to say to our Turkish Cypriot friends, compatriots, that we have finally reached a solution that allows for peaceful coexistence", the President said. Addressing Mr Fotopoulos, he spoke of flawless handling and close cooperation "in a way that has created fraternal relations and flawless cooperation between the Cypriot and Greek Governments".
"Never during your 4.5 years of service have you left or created the slightest flaw in relations, President Anastasiades continued. On the contrary, he said, what distinguished our relations was the close cooperation, during the critical hours that the Turkish intransigence provoked", he said.
He also said that with calm, prudence and excellent preparation we fought the battle in Crans Montana and came close. According to President Anastasiades, we came close to reaching a solution, if and when Turkey and our compatriots, of course, understood ours as much as we do their own concerns. Unfortunately, the persistence in guardianship, not only of the Turkish community, but of the whole of Cyprus from Turkey, the obsession in proposing a solution that would not allow the functionality, viability, which would not allow Cypriot Hellenism to consent, led to the collapse (of the negotiations).
"Any other stories are left to history. The reality is one. "As a Greek Cypriot side, in close cooperation with the Greek Government, we have put forward proposals for all six provisions of the Guterres framework, contrary to what we have faced from the Turkish and Turkish Cypriot sides", he said.
The only proposal put forward concerned only the continuation of the guarantees, the permanent stay of the occupying troops, and as for the rest that concern the Greek Cypriot side, nothing, the president stressed.
Addressing the Ambassador of Greece, President Anastasiades said it is difficult to say goodbye to a close associate, a dear friend. You will be physically in Greece, but mentally you will be in our minds, you will be in our hearts, because no one can overlook the level of services you offered, both in Greece and in the Hellenism of Cyprus, in general in our nation, he said. He finally wished Mr. Fotopoulos a good and successful course in his new post and wished to continue the very close cooperation with his successor, Aikaterini Xagorari./ibna