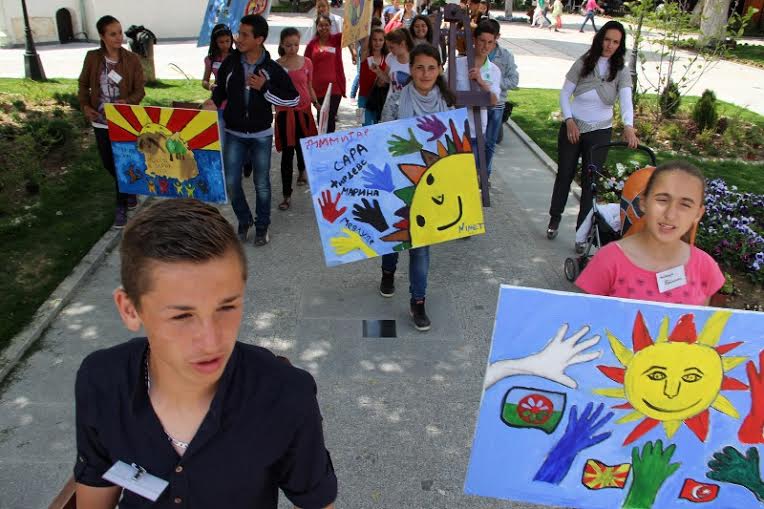 Skopje, May 29, 2014/ Independent Balkan News Agency
By Naser Pajaziti
Organization for Security and Cooperation in Europe (OSCE) is helping for the cohabitation and harmonization of cross ethnic relations in the former Yugoslav Republic of Macedonia.
A project called "We Build Bridges" is being implemented in Skopje's schools, with the participation of Albanian and Macedonian students from three schools.
OSCE ambassador to Skopje, Ralf Breth says that the scope is to bring communities closer to each other, but also to promote the idea for the cross ethnic integration of education and the increase of communication between children of the two communities.
"OSCE continues to promote the idea for a joint integration of communities in schools, in order to enable a better knowledge between them and communication. Such projects also aim at creating a joint space for cross ethnic cohabitation and promotion of young people as serious partners in making positive changes", says ambassador Breth.
"Without borders" activity of games was organized in the "Adem Jashari" school in Skopje. Around 100 students of different ethnicities have not only entertained with each other, but have also offered shows for the parents and teachers of "Hasan Pristina", "Kristian Todorovski-Karposh" and "Vasil Gllavinov" schools in the capital.
The principle of "Hasan Prishtina" school in Skopje, Merita Koxhaxhiku says that these projects are welcome, especially now when cross ethnic relations are aggravated. "It's a known fact that this age category is easily manipulated and are victims of the nationalist messages that encourage problems and cross ethnic hatred. This project aims to take forward cohabitation and it's a journey toward the successful realization of our projects which aim at bring students of different schools closer to each other in order to better know each other", declared Koxhaxhiku for IBNA.
"We Build Bridges" project is more of an entertaining and social project. It involves students of three schools who are taught in Albanian and Macedonian.
Aneta K., a student in "Kristian Karpo" school says that she's very happy with this project. She feels good about the fact that she has made many friends from the Albanian community.
"We live in separate environments with different mentalities. We had a good time with this new thing. We hope that we will also have such projects in the future, projects which are positive and have an impact in our relations", says Aneta.
Besides "Games without border" which were presented in before students, teachers and parents from the three schools, "We Build Bridges" project will also be followed by another activity on June 1-World Day of Children. /ibna/