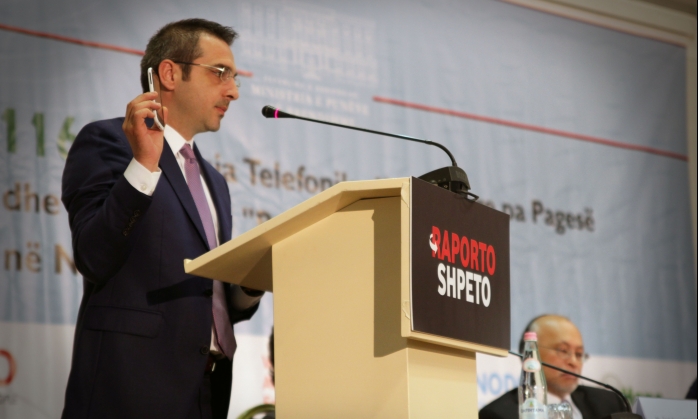 Tirana, June 19, 2014/Independent Balkan News Agency
A toll free number 116 006 and "Report! Save!" application to report victims of the traffic of human beings have been presented in Albania for the first time.
The free line is an effort to fight the traffic of human beings, while the applications aims to offer a better way to potential victims of traffic or citizens to report and help institutions to fight the traffic of human beings.
Minister of Interior, Saimir Tahiri said today that technology can be used and is being used to traffic human beings.
He criticized the fact that in 2013, Albania became the only EU country which was ranked by the US Department of State besides other countries such as Angola, Burundi, Haiti, Lebanon, Kenya and many other countries and he said that this was "a disgraceful ranking due to the inadequate efforts made by the previous government".
"We're confident that all our efforts, incentives and concrete steps taken in these 8 months in the fight against this phenomenon will perhaps take Albania out of the list of countries which are under observation in the next report which will be published in a few weeks by the Department of State", says Tahiri.
"We must prevent the traffic of human beings and domestic violence, by taking care for the rehabilitation of potential victims and by punishing those who in the 21st century, behave like slave owners", says the minister.
For the first time in 2014, the Albanian government also allocated a budget for the National Coordinator Against Traffic of Human Beings.
The majority of activities planned in the budget will focus on the prevention and research which will be the basis of well studied policies against trafficking in Albania. Coordination between police and prosecution for the referral and assessment of traffic cases has improved.
The EU progress report issued a few days ago has positively assessed the steps taken by the Albanian government in these 8 months in the fight against the traffic of human beings. A positive step also relates to the revitalization of the national mechanism of referral by intensifying prevention and awareness and the concrete steps against traffic of human beings.
Recently, there has been a significant drop of human beings in Albania. Before, many women were forcefully or deceitfully sent for prostitution, mainly to Italy. Meanwhile, many children were sent to Greece as beggars. A scandal relating to the traffic of organs with the involvement of Albanians and Greeks erupted in 2002-2004, following the disappearance of several Albanian children, who have not been found even today.
Nevertheless, such cases are still present. In 2013, there were 95 victims or potential trafficking victims, 43 of which are children and 52 are of a mature age.
In the recent months, there's an increase of the traffic of foreign victims. Many people come from poor countries and use Albania as a transit country. This phenomenon is very common with people from Syria who use Albania as a transit country to reach western destinations. /ibna/