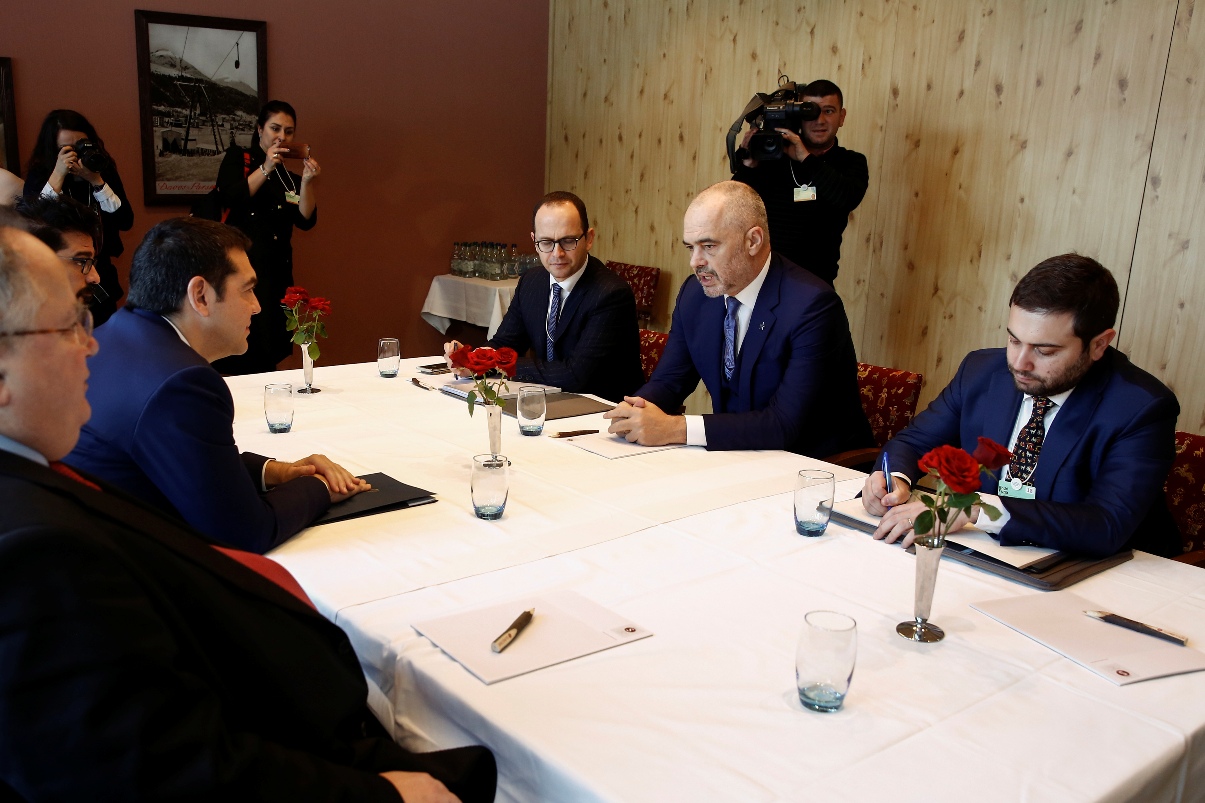 Greek Prime Minister Alexis Tsipras and Albanian counterpart Edi Rama met for almost an hour and a half on the sidelines of the Davos World Economic Forum, a few days after Nikos Kotzias and Ditmir Bushati met in Korçë for extensive talks on the resolution of bilateral disputes.
The meeting, which took place in a very good climate in the presence of the two Foreign Ministers, provided an opportunity to assess progress made in bilateral talks on resolving the differences between the two countries.
According to sources who spoke to IBNA, a sincere dialogue that touched upon on all issues has taken place, including issues such as determining the EEZ, the rights of the Greek Ethnic Minority, the rights of Albanian immigrants in Greece, the ceasing of the state of war and the confirmation of land borders.
The talks that took place in Crete and Korçë between Foreign Minister Nikos Kotzias and Ditmir Bushati have settled much of the bilateral disagreements. The meeting of the two Prime Ministers marks the confirmation of the resolution of a number of issues. Today's meeting also paves the way for the settlement of remaining issues, as well as the formalization of the agreement between the two countries at all levels, in a definitive manner, obviously in the spring of 2018, if there are no unforeseen factors in the discussions.
The Greek Prime Minister stressed his willingness to help Albania's European accession course, to strengthen the country's efforts to make the necessary reforms in this direction, to strengthen security and to fight crime and corruption. Joint actions have also been decided for closer cooperation in the areas of the economy, education, energy and culture. Alexis Tsipras noted that the Greek Ethnic Minority in Albania and the thousands of Albanian immigrants in Greece can become a bridge of friendship and cooperation between the two countries. Finally, he applauded the attribution of citizenship to Archbishop Anastasios and the implementation of the agreement on the cemeteries for Greeks who died in the Albanian front during the Second World War.
For his part, Edi Rama, praised the tireless efforts of Nikos Kotzias and Ditmir Bushati to find a solution to the differences between the two countries, while pointing out that Greece is a strategic partner for Albania, stressing that more things unite than divide us. The Albanian Prime Minister confirmed his willingness to resolve bilateral disputes, with his vision being to lead his country to the European Union with the cooperation of Greece./IBNA