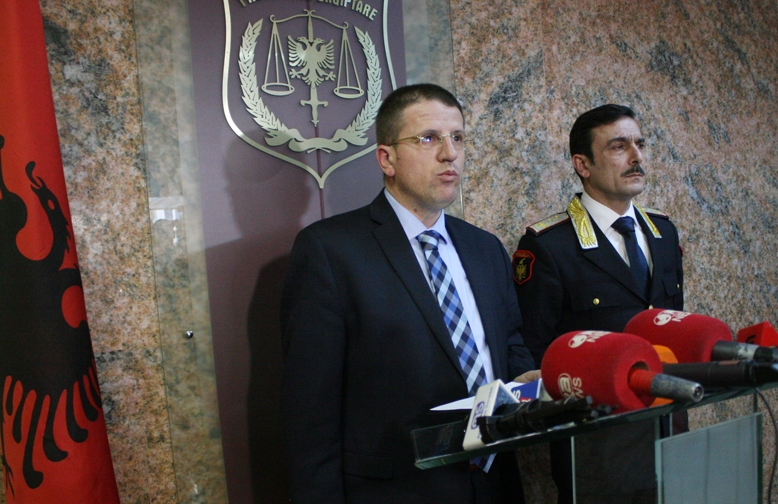 IBNA Special Report/Authorities say that they carried out an operation in order to identify several people who recruit soldiers to go and fight in Syria. 7 suspects arrested, no weapons arsenal is found. Raids take place in the mosque. Believers react: Authorities were looking for dynamite, but found nothing, they want to stigmatize Islam
Tirana, March 11, 2014/Independent Balkan News Agency
Authorities in Albania conducted today (11.03) a wide police operation for the arrest of several people who are accused of being involved in the recruitment of Albanian nationals to fight in Syria. Some of the arrested people are seen as members of the Albanian Muslim Community (AMC) in local branches, but Tirana head office denied such thing.
The operation
In the framework of an investigation launched by the Prosecution of Serious Crimes, today, authorities arrested 7 people suspected of their involvement in recruiting several Albanian nationals to go and fight in Syria.
Among the arrested are also two people suspected of being the masterminds, a 35 year old with a university degree and a 43 year old, both imams of two mosques in Tirana, but who were unauthorized by the Albanian Muslim Community.
The raid that was carried out in the homes and other premises in Tirana and Pogradec, which included several mosques, didn't lead to the discovery of an arsenal of weapons or explosive substances, like police suspected. Police said that in the homes of 7 suspects, it found cartridges, a dismantled offensive grenade, a machine gun and a knife.
The arrested people are accused of the criminal offense of "recruiting people with the aim to commit terrorist acts"; "Public propaganda to commit criminal acts of a terrorist nature" and "Instigation of hatred and conflicts between nationalities, races and religions".
Sources from the Prosecution of Serious Crimes told IBNA that two of the arrested are suspected of being involved in active actions in order to indoctrinate different people with radical ideologies, to then be engaged in combat as part of extremist terrorist groups which are undergoing sanctions by United Nations.
Two others are suspected to have carried out concrete actions in sending several Albanian nationals in Syria.
AMC demands a fair process
Albanian Muslim Community has reacted over the arrest of 7 persons accused for terrorism and involvement  in the Syrian conflict and declared that they are not members of this Community.
AMC said that it confirms its position according to which it calls on Albanian believers not to be involved in the Syrian conflict. "The participation in conflicts and violent acts is not in line with the spirit of Islam. Albanian Muslim Community is a promoter of the best Islamic values and it preaches the beauties of faith, harmony and tolerance in our country", states the press statement issued by AMC.
Nevertheless, Albanian Muslim Community said that it encourages a fair trial.
Believers react: Fake charges, they were looking for dynamite in the mosque (!)
Today there were many reactions by Muslim believers following the operation. Believers considered accusations launched by police as unfounded and unacceptable.
One of the believers declared that these accusations show the war declared against Muslim believers.
"Masked and armed policemen entered the mosque and desecrated religious institutions. After they raided the mosque, they showed me a court warrant. They were looking for weapons and dynamite. What's happening is an attempt to stigmatize Islam", said a Muslim believer.
Meanwhile, another believer said that he experienced the hours of the police operation, stressing that these false accusations for terrorism aim to give a blow to Islam and that people with a problematic past who have now taken God's path, are being fought by authorities. "Authorities have declared war against those people who left drugs, prostitution and who don't cause problems now. The state has invented everything, but the truth will come out one day. This is a war against Islamic believers. We demand for our brothers to be released", is the appeal launched by the believer.
A third believer described how believers were not allowed by police to pay in the mosque. "We have not been allowed to pray and we have footage that show believers praying on the street because they were not allowed to do it in the mosque. Those police officers showed us a warrant issued by the court to conduct a search in the mosque, by stopping us to enter the mosque during the praying time", said he. /ibna/