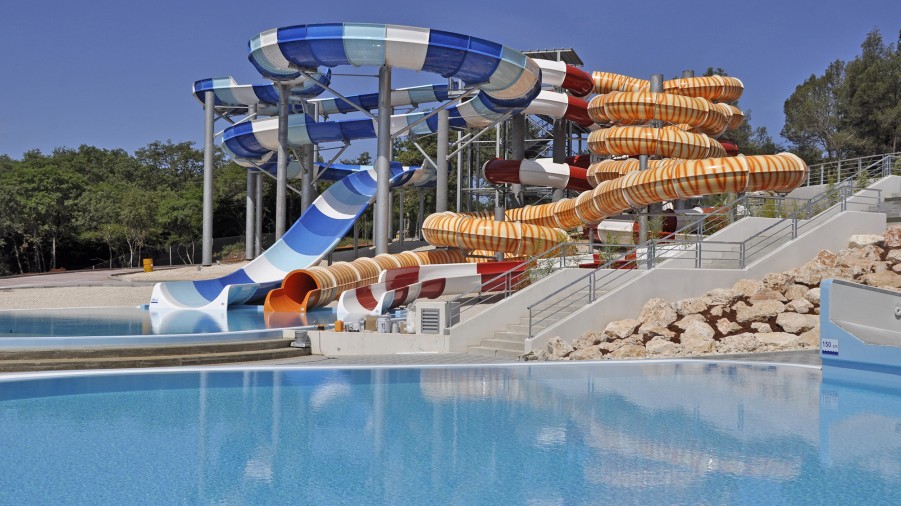 By Marija Avramovic – Zagreb
On Thursday the first Croatian water park "Istralandia"  was formally opened in the municipality of Brtonigla in Istra. This ten million euros investment by the Croatian entrepreneur Branko Kovacic created eighty new jobs, reported all Croatian media.
"Istralandia", which opens its doors to the public on Saturday, takes up 80,000 square meters and offers a number of attractions, including a swimming pool with artificial waves that are largest in the Mediterranean, the highest tower and swimming pools for adults and children. Water is taken exclusively from groundwater wells of fresh water of which 90 % is recycled after use and 10 % goes to the biological purifier.
The Waterpark was opened with a ceremonial ribbon cutting by its owner Branko Kovacic, Tourism Minister Darko Lorencin and Istrian County Prefect Valter Flego, in the presence of numerous guests and invitees.
"Since the biggest tourist destination in Croatia is Istra, it gave me the idea to create a project that was missing, especially in the field of entertainment, sports and recreation", said Kovacic, adding that in tourism is no longer necessary to have only high-quality hotels, camps , apartments and good food but also to offer an active holiday.
"Opening Istralandia is an extremely important factor in the development of tourism, especially seasonal, since the water park will be open from early June to mid-September", said Kovacic, who already this season expectes the arrival of about one hundred thousand people.
The minister Lorencin, who is himself from Istra, said that he was proud that the first water park in Croatia opened right there, adding that the key to tourism today are exactly investments like that one.
Water World amusement parks have been around for years and make an attractive tourism product, thus in Italy there are more than hundred water parks, while in the area of ​​Croatia, Slovenia and the surrounding countries until now there was none.
Lorencin rated that the pre-season runs as planned and that the World Cup just in a lesser extent influenced the arrival of guests, adding that the results of the pre-season will be known in the first week of July when the relevant ministry will have concrete data.
"In financial terms, last year we had a 5% increase in revenue. I expect that this year we will have a record year or at least we will approximate the record from 2008 when we had a revenue of 7.4 billion euros", said Lorencin.