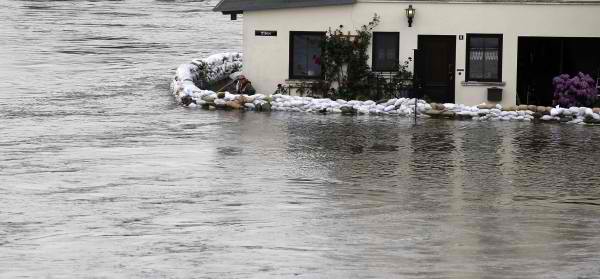 By Natasa Radic – Zagreb
Eastern parts of Croatia are ready for a huge amount of water, whose peak is expected on Friday. Budapest in HUngary was preparing for the worst. Danube water level exceeded the record level of the 2006 – and it had eight and a half meters, and city authorities do not rule out the possibility of evacuation of fifty thousand people who live in parts of the Hungarian capital.
Water wave started moving towards Croatia, whose peak is expected in a few days. The first attack of the water will happen on the Batina region, where the Danube rises a centimeter per hour.
As the head of the main center for flood prevention Zoran Djurokovic said for Croatian TV, it is very likely that the wave of water that is coming to Croatia from Hungary will be the second biggest wave of all times.
-You should not be surprised if and when we come to the historical maximum and that this will be the largest water surge since 1965 -he said, adding however that he hoped it would not happen because the wave has a few hundred kilometers still to travel and is believed that it will become less dangerous.
-The peak of the Danube water levels is expected in Budapest, while in our area, at the entrance of Croatia it is expected to reach its highest level during Friday, possibly even on a Saturday. After that, with a lag of one to one and a half days longer, the peak water wave will move to the area of Vukovar, and then it will begin to slowly decline. So, we will have 10-15 days of extremely high water levels – said Ivica Nad from Croatian waters, but added that all are on high alert and ready for this extreme situation.
Some residents of the village Tikves, located next to the park Kopacki rit, are preparing for evacuation.
– We packed our things. For us a warning enough was the fact that the police have been here twice listing the number of people and alerting us to possible danger – said Miroslav Mikic, who lives in this  forest and natural idyll together with his wife  Manuelaand two daughters, aged 12 and 13, and 14-month old son.