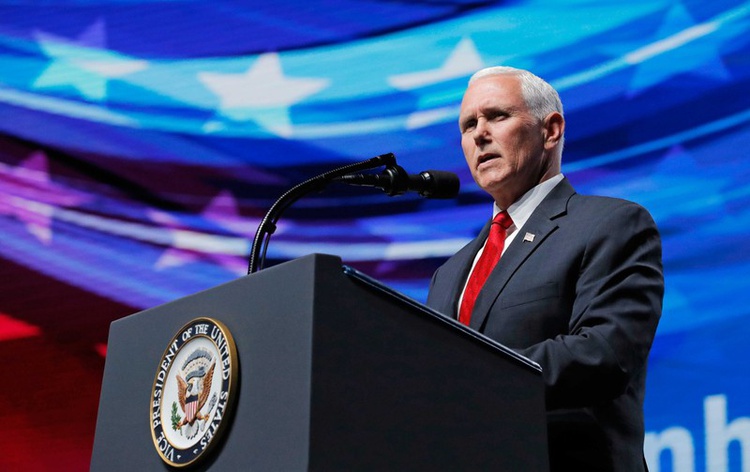 "Either you cancel the S-400 or we cancel the deliveriy of the F-35 and discuss your exit from NATO"
Cold-war climate within NATO's ranks, with the US threatening Turkey for its military cooperation with Moscow.
US Vice President Mike Pence openly threatened Ankara with an exit from the F-35 program and the cancelation of the delivery of the fighters to Turkey, on the wake of Ankara's insistence on the purchase of Russian S-400 anti-aircraft system. At the same time, he spoke about the possibility of Turkey leaving NATO!
In his speech at the panel entitled "NATO brings together, the 70-year-old alliance", Pence said that "the S-400 purchase from Turkey is a big risk for NATO. If Turkey insists on the S-400 purchase, it will face the risk of leaving the F-35 program. Turkey must make a choice".
The US Vice-President stressed that the possibility of receiving a Russian anti-aircraft system would not only weaken Turkey's defense capacity, but would also cause great damage to Turkish companies supplying spare parts to the F-35 program, as the cooperation will be terminated.
Turkey, which plans to receive 100 F-35 fighters, is a co-producer with six Turkish companies aiming to supply various spare parts for the aircraft's production.
Pence, however, implied the possibility of Turkey leaving the Atlantic Alliance, saying that "Turkey should make a choice. Does it want to remain a critical member of NATO's most powerful alliance, or take reckless decisions and risk the security of such a cooperation?"
Earlier, at the same panel, Turkish Foreign Minister Mevlut Cavusoglu had said that "the S-400 agreement has been finalized. The US had made a proposal for Patriot defense systems, but there is no guarantee that this agreement will be completed". He said that no one can put pressure on Ankara to make a choice between the West and Russia.
In the Turkish press, particularly in the pro-government newspaper Yeni Safak, there was a publication with Turkish officials saying that some important parts of the S-400 anti-missile system had already begun to arrive.
Turkish Vice President Fuat Oktay responded directly to Pence's statements and in a message to Twitter said "the US must decide. Will they remain as allies of Turkey or risk our friendship collaborating with the terrorist organizations and leave us alone with our enemies."
On April 8, Turkish President Recep Tayyip Erdogan will visit Moscow to meet with Vladimir Putin on the key issue of completing the S-400 program. According to Turkish officials' statements, the first array of S-400 will be received in July 2019 and will be activated in October. Unless of course, the Pence statements change the situation./IBNA