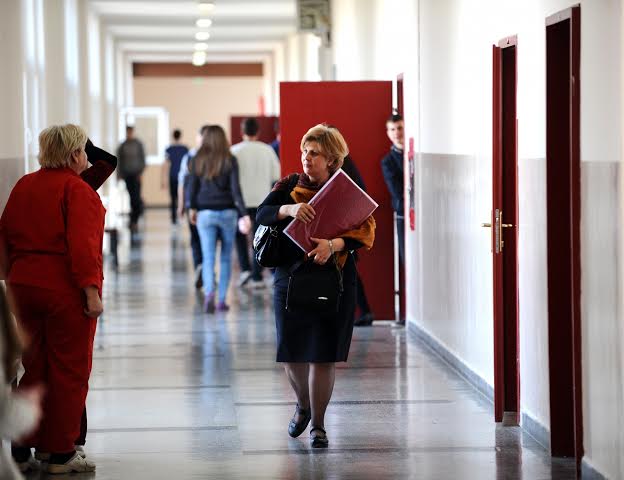 IBNA Special Report
Skopje, January 19, 2015/Independent Balkan News Agency
By Naser Pajaziti
A general strike has been warned in education tomorrow, but on the other hand, authorities in several communes and schools have declared that the strike will not take place.
Education, Science and Culture Union, which will organize the strike, has stressed that tomorrow there will be a strike on the occasion of the start of the second semester in the schooling system.
"We will start a general strike against pressure and blackmail. In September of last year, we postponed the strike to offer a chance to the negotiations with the government, but they didn't yield any results. This is why we are determined for the strike", declared the head of the Union, Jakim Nedelkov.
The Union demands a 25% pay rise for teachers, lifting of penalties for teachers and the holding of social dialogue.
Several schools have warned that they will not back the decision of the union and that they will hold normal classes. These communes belong to government coalition between VMRO-DPMNE and BDI (Democratic Union for Integration). Heads of all communes have met in the recent days with school principles and then, a statement was released announcing that the strike will not be held and that the union's decision will not be backed.
Some union members have accused the current mayor, Jakim Nedelkov of calling the strike in order to win a second term in office in the union's congress scheduled to take place in October this year. Nedelkov said that those who are against the strike, are individuals that are manipulated by the government.
"They act as megaphones of this government, which aim at making this strike a failure, but we believe that 80% of teachers throughout the country are in favor of the strike", declared Nedelkov.
Minister of Education and Science, Abdilaqim Ademi told IBNA that he hopes the strike will not take place and for an agreement to be reached with the union.
"Unfortunately, we have not been able to harmonize stances with the Union, but I hope that we will meet again to harmonize our stances", declared minister Ademi.
Commenting on the main demand for a 25% pay rise, minister Ademi said that there will only be pay rises for those teachers that deserve it.
In FYR Macedonian, average wage for teachers varies from 250 to 400 Euros a month, depending on professional qualification. /ibna/