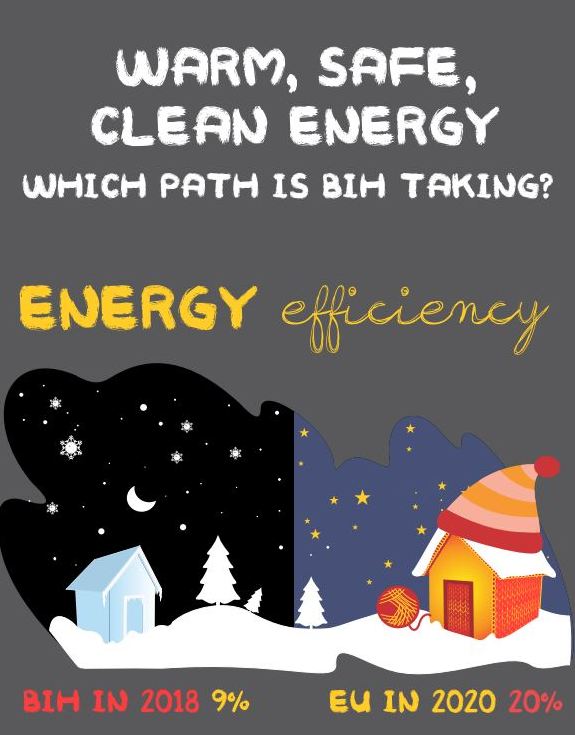 By Maja Tuljković
Last week CPI Foundation, on behalf of the network SEE SEP-South East Europe Sustainable Energy Policy presented comparative infographics that were designed in order to draw attention to the important decisions that should be made by the B&H authorities. Infographics show that the current situation in the energy sector and plans for development of teh energy sector are not compatible with EU standards, and the decisions made by the B&H authorities will determine how warm it will be for B&H citizens, how safe energy will be and the cleanliness of the air and water. The B&N energy policy is divided between the FB&H government and the RS govern,ent, and are therefore part of the campaign ads placed near these institutions in Sarajevo and Banja Luka, as well as near the delegation of the European Commission in B&H.
According to the coordinator of the project SEE SEP network for B&H, Zoran Ivančić, at this moment B&H is going down the wrong energy path, but it is still not late to change it.
"There are two paths. The first path leads to more poverty, environmental destruction, the continued abuse of the power of water and air, so that energy barons in the private sector could profit from the export of energy to the EU". The second path opens the door to constructive solutions on a human scale, harmonized with EU standards to whcih B&H is committed. SEE SEP Network chooses the constructive path. This is indicated by the campaign 'Warm, Safe and Clean Energy-towards which path is B&H going', said Ivančić.
International financial institutions at this moment are not investing in huge harmful projects, but their goal and their activities should be focused on investing in renewable energy and in energy saving, together with B&H governments. Because if this is not doen, with a planned increase of prices in 2015, B&H citizens will be in a position where they will not be able to afford electricity in their households. This means that the energy sector will be an obstacle for European integration and that it will have to harmonize later. The cost of this harmonization will of course be financed by citizens, either through taxes or through increased energy prices.
However, B&H citizens are still not aware of the situation and more work needs to be done on raising awareness. Unfortunately, many of them will only begin to show interest when they feel it in their pockets. When it comes to legislation in B&H, it exists but what is needed is to redeem energy that is produced by renewable energy sources. There are no regulations that would encourage production and the launch of energy efficient and renewable ways of generation.
SEE SEP Network and its members in B&H, Foundation CPI and the Center for the Environment believe that change in B&H society is necessary and possible and that it is possible to reach global trends in the area of sustainable energy policies. Given that in the next ten years around 30 billion Euros are planned to be invested in the energy sector in the region, and that the health consequences that arise from the use of dirty technologies are already being felt, citizens should not be indifferent regarding where investments are being made and what will be the future of energy.