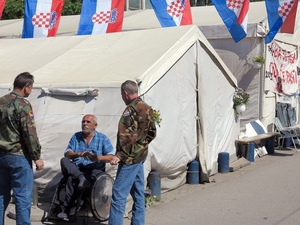 Zagreb, June 9, 2015/ Independent Balkan News Agency
Review Hari Stefanatos
The second meeting between Croatian war veterans, Croatian prime minister Zoran Milanovic, War Veterans' Affairs Minister Predrag Matic and Defence Minister Ante Kotromanovic took place Monday behind closed doors.
The second round of talks had been scheduled during the first meeting on June 1, which was open to the public.
During the talks in the government building in St. Mark's Square, the protesting war veterans reiterated their criticism on Milanovic's cabinet, notably the war veterans ministry, objecting to the decision that a minimum allowance granted to some categories of war veterans be paid by the Social Welfare Ministry, because of which, they argue, some 1,500 beneficiaries were left without this income.
The war veterans have been protesting by holding a sit-in rally for more than 230 days, in a tent outside the ministry's office in Savska Street. The protest started in late October last year.
Veterans say they are outraged by the treatment and lack of respect towards them from the government.
Source: Dalje