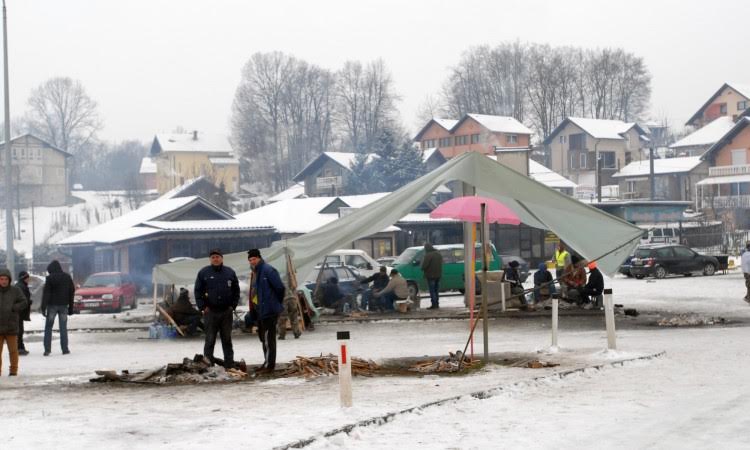 Army of Republic of Bosnia and Herzegovina (ARBiH) veterans continue the blockade of main roads in Federation BiH demanding better living conditions for the population that survived the war more than twenty years ago.
ARBiH was the military formation that mostly consisted of Bosniaks with the small participation (number wise) of Serbs and Croats, who didn't have many rights during or after war. After the war ended, the Federation of BiH were paying 400 German Marks -at the time- per month spent in war, to everybody on their side, but in so-called "certificates" not in cash. This "money" could be spent by veterans to privatise apartments, buy stocks of enterprises about to be privatised and, as most of them did, sell them for cash for about 30% of their nominal value. Now, two decades after the war, the veterans decided to push the entity government to take more care about them. Demands are the same as during past protests: a monthly financial fee for all veterans, the establishment of the "Register for veterans" and termination of financing of more than 1 600 veterans associations in this BiH entity -instead they would like more rational spending and if possible less associations.
Although the demands are not exaggerated or over the limit and could be easily realised, the Federation BiH Government calculated that what they ask is too much and fulfilling them would cause the entity's bankruptcy. Two days ago, veterans in several cities in BiH Federation went to protest, bringing traffic at the Tuzla-Sarajevo, Doboj-Sarajevo, Sarajevo-Konjic ways, as well as at several other less important roads in Central Bosnia, to a halt.
Nobody believed that the blockade would last more than few hours, but on at least two main roads, veterans kept rallying till next morning. Police was sent by the government to clear the roads. This was successful at most of the blockades but one, near Tuzla, is still active. More than 48 hours later, veterans remain on the road under freezing (-16) night temps. They formed a small camp making fire near the road, keeping it going on rotational shifts.
In the meantime, the entity Government is trying to find a solution, there was no representation from the veterans' associations' side at the meeting that was held.
"Seems that they don't want to solve this issue. Obviously, protests are well organised, not spontaneous," the entity's PM, Fadil Novalić said.
Traffic was jammed due to the blockade, causing delays to several bus lines and kilometers-long lines of cars near where the protest was being held. Most citizens who got caught up in jam disagreed with the rally, noting that it disrupted the entity's daily "routine".
"I am a veteran too, but cannot agree with protesters who keep us waiting and decide whether they will allow some cars through the blockade. There are many children in cars because somebody does not want to let them go," one of the drivers who spoke to local Media said.
Veterans tried to block the border crossing of Bijača, that connects BiH with Croatia, on the South of the state, but police stopped them. Friday afternoon found them at the Tuzla-Sarajevo road block, waiting for Novalić to come on the spot and debate possible solutions…/IBNA