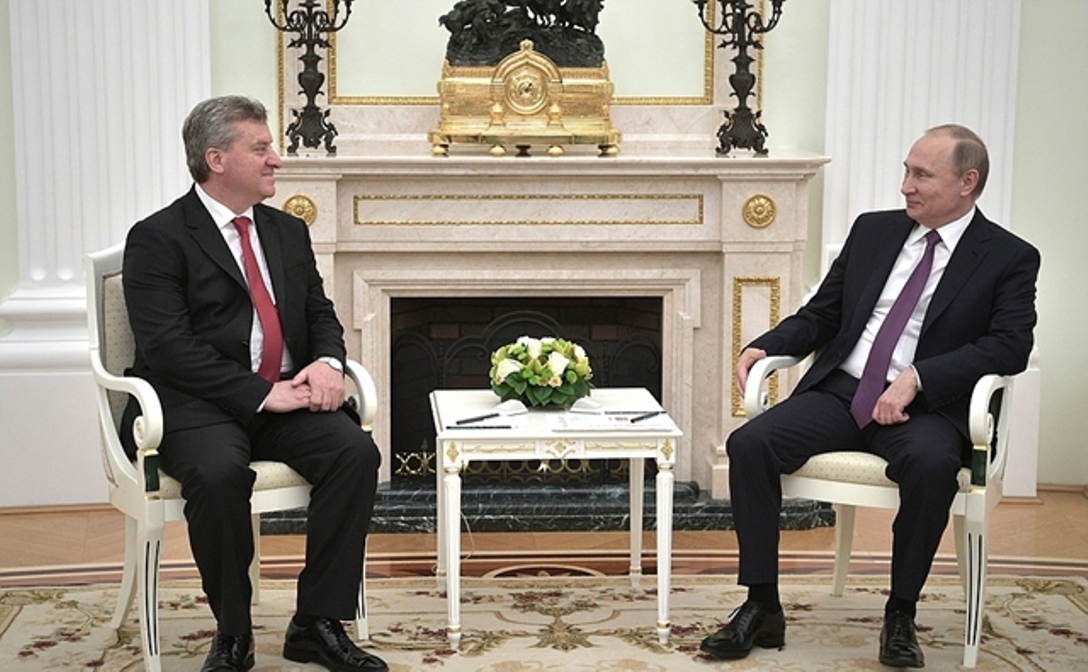 Bulgarian politicians across the political spectrum seldom agree about anything – but Russian president Vladimir Putin has inspired a rare unity among them. Against him.
In the past two days, Bulgarians even have seen the rare spectacle of Putin being criticised by otherwise pro-Russian political forces such as the Bulgarian Socialist Party and Ataka leader Volen Siderov. Even Bulgarian President Roumen Radev, who on his election last year was described in many media reports as "pro-Russian" has joined in.
It was Putin's statement during a meeting in Moscow with his counterpart from Skopje Gjorge Ivanov in Moscow that was the red rag to the Bulgarian bull.
The meeting took place on May 24, marked in Bulgaria, FYROM and Russia as the Day of Saints Cyril and Methodius, originators of the script that evolved into Cyrillic.
Putin told Ivanov, as recorded on the Kremlin website, that the day was a solemn one, the day of Slavonic writing and "this writing came to us from the Macedonian lands".
For Bulgaria, which has complex relations with its neighbouring former Yugoslav republic, Skopje's claims regarding history are a frequent irritant. Between official Sofia and Skopje, this has been frequently discussed, and in the two countries' respective media, there have been frequent flare-ups on the matter over many years.
Bulgaria too has complex relations with Russia, dating from the time of generally positive sentiments about Russia's role in liberation from Ottoman rule, to considerably less positive memories about the decades that Bulgaria was in thrall to the Soviet Union. In the recent decades of an official pro-Western policy in Sofia by most governments, the Russia question has been a divisive one.
But a Russian leader giving credit to FYRO Macedonian lands about something that Bulgarians are taught to hold dear from their earliest childhood made those divisions largely evaporate, though it is not likely the effect will last.
Radev, speaking to reporters on May 25, said that using history as a coin to trade in did not always produce the desired result.
"It was a bright day yesterday for all peoples who use the Cyrillic alphabet. If we truly want Slavic peoples to be united, this can only happen if we respect history, and history makes very clear that Bulgaria is the home of Slavic civilization and culture," Radev said during a visit to Brussels for the Nato summit (the fact that this statement was made while the Bulgarian head of state was taking part in a meeting of the Euro-Atlantic alliance added a certain piquancy to the whole thing).
While Radev has insisted that it is not fair to describe him as "pro-Russian" – the former air force commander has referred to himself as a "Nato general" who wants more balanced relations with Moscow – he too has indicated he wants to host a visit by Putin. The Russian president has not been hosted in Sofia for several years. Such a visit is seen as possible in the first half of 2018 (while Bulgaria also would be holding the rotating presidency of the EU of which it is a member), by which time Putin's Macedonia statement may have receded in the national memory.
Boiko Borissov's GERB party described Putin's statement as a provocation that is not directed directly at the Bulgarian state, but rather a consistent policy towards the countries of the Western Balkans.
Ataka leader Volen Siderov said that Putin's statement was incorrect and there should be reaction against him, as well as against all such statements, wherever they come from.
"There must be a very clear strategy in the government as a whole, in which Bulgarian history should be presented accurately and correctly…If we say so ironically, we can say that there is progress, once they learned that Lenin invented the alphabet, and now that it comes from the Macedonian lands. Among other things, the Macedonian lands are not a state, Macedonian, Thracian and Dobrudzha lands have been part of Bulgaria," Siderov said.
Kornelia Ninova, leader of the opposition Bulgarian Socialist Party, said in a May 25 television interview that Putin's remark was "surprising and unacceptable".
She said that Putin's statement "must be some kind of a message for us and we have to decipher it. It is important to say that we cannot accept this attitude and protect our history."
A BSP MP, Tazko Ermenkov, told reporters: "Nowhere in my life will I allow myself in my behaviour, to question the authors of the Bulgarian alphabet, it is the Bulgarian alphabet, it is not Slavic-Macedonian, right?"
Prime Minister Boiko said that it was "un-European" to continue arguing about history even though historians have long had their final word about who started Slavonic letters and took them where. Say that thanks to the Holy Brothers Cyril and Methodius, to the letters and script they created, more than 300 million people write and read these letters and add diversity to European culture".
GERB's Gemma Grozdanova, chairperson of the National Assembly's foreign policy committee: "Let us not forget that this sentence was said in Macedonia (as reported above, it was said in Moscow).
"This policy, as we have said, has long been driven to move the countries of the Western Balkans away from their membership of European structures, the EU and NATO. Let us not forget what resistance the Russian Federation has had to the membership of Montenegro in NATO, which actually happened in a few days, and Bulgaria was one of the first countries to support this membership," Grozdanova said.
Defence Minister Krassimir Karakachanov, a co-leader of the United Patriots and a frequent and critical commentator on issues emanating from Skopje, said that he was "surprised" to see "that the president of the largest Slavic country does not know the history of Slavic people.
"The fact is that Slav letters came into being thanks to the Bulgarian state and the 'Macedonian soil' of the Bulgarian state," Karakachanov said.
On May 25 and into the morning of May 26, Bulgarian media could not tire of the topic. The controversy led the flagship evening news bulletins on Thursday evening, and was still there to greet Bulgarians who woke to morning television talk shows on Friday. A seemingly endless procession of Bulgarian historians, politicians and former diplomats had something to say on the topic, hardly worth recording here because it was all – unsurprisingly – largely the same thing. Those few media that had any trouble filling up an empty slot on air simply resorted to interviewing other journalists.
The matter was also discussed at a previously scheduled meeting on May 25 between Borissov and the Russian ambassador in Sofia, though Moscow's envoy was not keen to tell reporters what had passed between him and the Prime Minister on the topic.
A slightly different view came from National History Museum director Bozhidar Dimitrov, also well-known for frequently critical comments towards Skopje. According to Dimitrov, there was "no geopolitical message in the words of Vladimir Putin".
Putin had not said that the Cyrillic script came from Macedonia – had he done that, Dimitrov said, he would have offended both Bulgaria and Greece: "So he chose the impersonal 'Macedonian lands' to allow for different interpretations"./ΙΒΝΑ