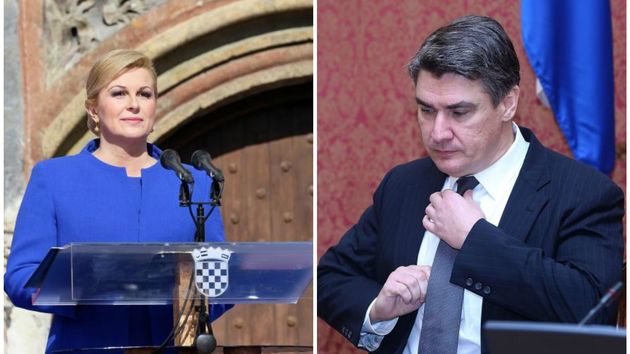 Zagreb, February 24, 2015/ Independent Balkan News Agency
By Marija Avramovic
President of Croatia Kolinda Grabar-Kitarovic advised last night that the most concrete proposal for Croatia to exit from the crisis is the resignation of Prime Minister Zoran Milanovic, said the Office of the President, in which she responded to a letter which Prime Minister had sent her on Monday.
Milanovic has sent a letter to the president in which he proposed joint convening of the National Security Council's session, and with the re-call to the president to come to the government's session,  also welcomed her announcement for proposing of holding the session of the government on the subject of the economic situation in the country.
"Prime Minister considers it is important that the president prepares specific proposals, methods of implementation and assessment of the financial impact of such proposals", government spokesman Nikola Jelic noted.
Last night's statement of the Office of the President reminds that Grabar-Kitarovic on Thursday, February 19, called the Prime Minister offering cooperation and she also announced sending a proposal for a joint session of the government due to the difficult economic and social situation in the country.
Considering that until last night the government hadn't accepted that proposal, Grabar Kitarovic drafted the agenda of the joint session, and as the most concrete proposal for exiting the crisis stated the resignation of the Prime Minister.
"It is paradoxical that the president has picked on Prime Minister and thus helps the Social democratic president (SDP) president in the upcoming election campaign", political analyst Zarko Puhovski assessed for Croatian Radio Television.
He also considers that Grabar-Kitarovic acts as the president of half of Croatia because "if she's publicly asking for someone to resign, without first doing it in Parliament, she does not respect state institutions".
"In the Parliament she can request a vote of confidence, but a resignation can only be demanded by her friends", added Puhovski.
Puhovski is not alone in such assessment of numerous exchange releases and letters, in which both parties act as if they believe that the other party should not exist, but in this whole situation only citizens of Croatia and its economy, which is undergoing the sixth year in recession, suffer the most.