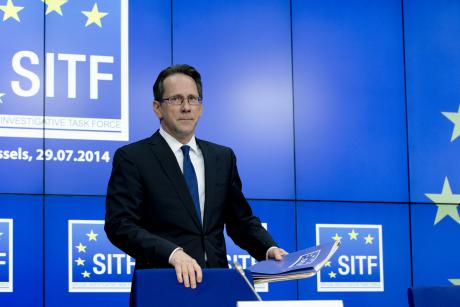 IBNA Special Report
Pristina, July 30, 2014/Independent Balkan News Agency
By Elton Tota
Political parties and civil society have issued different reactions about the report and  war crimes  accusations launched by prosecutor of the Special Investigative Task Force (SITF), Clint Williamson.
The senior official of the Democratic Party of Kosovo (PDK), former commander of KLA, Rrustem Mustafa-Remi, says that the declaration made by Williamson, who said that several elements of KLA have eliminated political opponents during and after the war in Kosovo, is good news for Kosovo, as the investigation on this army is coming to an end.
According to him, it's good that it was once again proved that members of KLA have not been involved in the traffic of human organs, adding that this case consists on mere rumors now. Officials from the Democratic League of Kosovo have not issued a lot of comments on Williamson's report, given that they do not possess a lot of information, besides what was published on the media.
Member of LDK's steering committee and MP of this party, Kujtim Shala said that this is a generalized report, expected to contain a number of accusations.
"We believe that it's a generalized report, as it was expected. At least some accusations are expected to be launched. Given that we don't have a lot of details, we cannot comment. We can only comment the part that relates to institutions, because we're ready to help as a political party for the Court to be established and to operate in an independent and unbiased way", said Shala.
Leader of AAK, Ramush Haradinaj says that the work of Task Force and the report of ambassador Williamson consist on a step forward toward clarifying the accusations which are now known by the public.
According to him, this is a big step in the right direction to establish the rule of law in Kosovo.
"The Alliance is convinced that the people of Kosovo, led by Kosovo's liberation Army has fought a fair war and whatever individual case of a criminal nature, will not pale the liberating mission of that war", said Haradinaj.
According to Self Determination (SD), the report published today by the Special Investigative Task Force prosecutor, Clint Williamson, which was based on the claims of Dick Marty's report, is not a report, but a weak seven page political declaration.
"The team chaired by Mr. Williamson, which put in a lot of efforts and spent a lot of EU funds, came out with a seven page declaration and not a report. This declaration not only is a little, compared to the resources that were used and noise that was done beforehand, but it's poor in terms of content and substance", notes Self Determination.
Meanwhile, analysis and civil society say that the report gives way to a tough campaign which Serbia will hold to contest the international legitimacy of the state of Kosovo.
Fisnik Korenica from the Group for Legal and Political Studies, says that the report of the EU Task Force is a great burden for Kosovo, as according to him, this gives way to this tough campaign that Serbia will conduct.
Korenica says that he's in favor of finding individual responsibility for the perpetrators of such acts. But, he said that he's against the idea of such process to be mono ethnic and not to include Serb officials who have committed genocide in Kosovo.
Behxhet Shala, head of the Committee for Human Rights, declared that the finalization of the investigation over Dick Marty's allegations, would be in the best interest of Kosovo.
"It's a generalized report, which does not mention names, but it contains serious accusations, although it doesn't explicitly say that there's been traffic of organs.When it comes to crimes, the image of the state is improved by fighting them and not by defending crimes and by pardoning them. The image of the war of KLA is only cleared by trying the criminals. For Kosovo, it's better if these investigations are finalized and for dilemmas to be put aside, because this will not leave room for manipulation", said Shala.
Shala has added that if the allegations are proved, responsibility is individual.
Meanwhile, European Parliament Rapporteur on Kosovo, Ulrike Lunacek said that the report on human organ traffic in Kosovo will shed light on the perpetrators.
Lunacek has urged the European Union to establish as soon as possible the court which will investigate the accusations addressed to responsible people.
"The war crimes allegations against senior commanders of KLA are aggravating cross neighboring relations in the region", said she, stressing that she's happy that Williamson's report will now shed light upon the responsible people.
She said that it's a good thing that the report talks about accusations against individuals and not against the entire Kosovo Liberation Army, which has fought against the violence of the regime of Slobodan Milosevic and for the independence of Kosovo. /ibna/