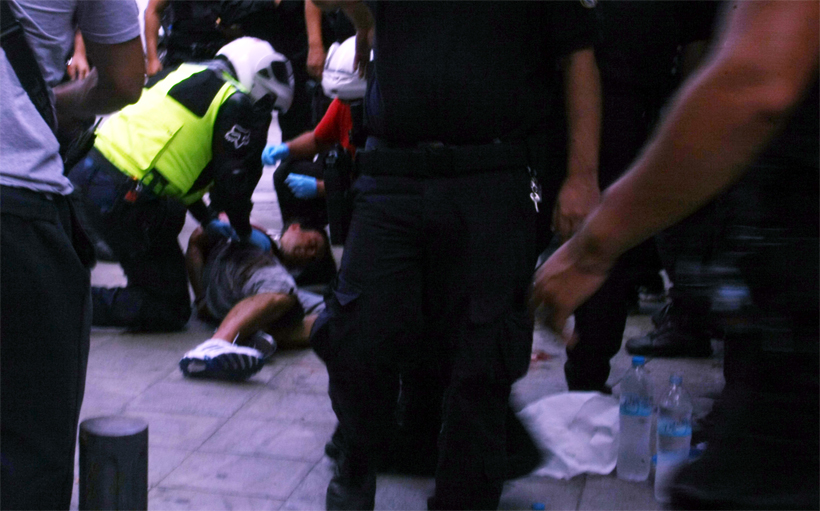 By Lefteris Yallouros – Athens
Greece's anti-terrorist squad arrested terrorist Nikos Maziotis, leader of the terrorist group Revolutionary Struggle, in the center of Athens Wednesday morning after exchange of gunfire in a busy street resulted in the wounding of a police officer and two tourists who were passing by.
Maziotis was on the run having violated his conditional release in 2012. The wanted terrorist had been sentenced to 25 years imprisonment for attacks on the US embassy and an Athens courthouse amongst others. A EUR 1 million bounty was put on his head. In April this year, Revolutionary Struggle claimed responsibility for a car bomb outside the Bank of Greece.
The terrorist tried to rob a shop in central Athens whilst wearing a disguise. Police were alerted to the presence of Maziotis as he was seen carrying a gun; he opened fire, attempting to flee after police asked for ID. The police shot back in a crowded street and managed to capture him.
Maziotis was taken to Evangelismos hospital shortly afterwards where he underwent surgery under armed guard. The policeman and bystanders also injured in the shooting carried only light injuries and are reported to be in good health.
The 42 year-old terrorist has been on the run since he was convicted last year of involvement in attacks in Greece organised by Revolutionary Struggle. He had been allowed to leave jail after his pre-trial 18 month incarceration period had expired, along with life partner Paula Roupa.
Police are now thought to be close to finding Roupa as well. Safe-houses of the Revolutionary Struggle are now being sought out. The Attica districts of Marathonas, Grammatiko and Kalogreza are thought as possible areas hideouts could be situated. Citizens have been asked to inform the police on 1014 and 10414 if any relevant information on the case comes to their attention.
Prime Minister Antonis Samaras congratulated the police force for their success in taking down Maziotis through Public Order minister Vasilis Kikilias who passed on the Prime Ministers' praise as the latter is in Brussels for a European Summit. Kikilias said the arrest of Maziotis is a great success for the force that benefits society in many ways.