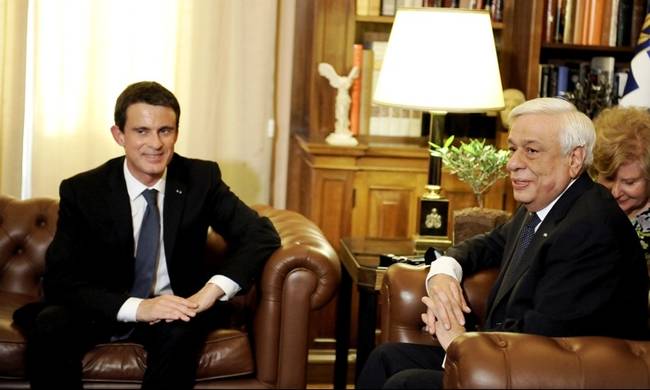 Athens, June 3, 2016/Independent Balkan News Agency
By Spiros Sideris
Tackling terrorism and ending the war in Syria was very high at the meeting of the President of Greece Prokopis Pavlopoulos with the French Prime Minister Manuel Vals.
Receiving at the Presidential Palace the French Prime Minister, Mr Pavlopoulos stressed that the Greek side does not forget the crucial contribution of France on the stay of Greece in the EU and euro zone. Greece will continue with great sacrifices to keep the core of Europe, emphasized the President of the Republic, and stressed that the rule of law should not be affected.
Also, he said that "we must face together the acute problem of refugees" and underlined Turkey's responsibilities regarding compliance with the obligations regarding its management. He also said that Frontex should immediately be converted into a European coastguard.
Finally, he stressed that the war in Syria has to stop and terrorism confronted, the results of which France paid dearly.
For his part, Manuel Waltz noted that the aim of his visit, which takes place a few months after that of French President Francois Hollande, is to strengthen the two countries' relations.
He referred to the support of France for the stay of Greece in the eurozone, adding that "we will continue to support Greece for a sustainable solution".
He underlined that Greece is the first host country of refugees and stressed the need to be able to count on the support of Europe and especially France, adding that the priority for everyone in the EU is border security.
Mr Waltz also referred to the Greece-France economic cooperation.
Dinner Tsipras – Waltz
The Greek Prime Minister and his French counterpart Manuel Waltz had a first discussion on a more relaxed atmosphere, in a dinner at the Acropolis Museum.
Welcoming Mr Waltz at the dinner, Mr Tsipras said that "we have endured a long and prolonged winter" and stressed that "it is time to see the light at the end", noting the need to attract investment and stressed that "we remained standing after overcoming two very big crises, a refugee and an economic one".
Furthermore, he noted that we will have a good summer for tourism, with forecasts speaking of 27 million visitors, among who, he added, many French.
Earlier, at 20:00, Mr Waltz and the French delegation had been given a tour at the Acropolis Museum by the President of the Museum, Dimitris Pantermalis.
On Friday morning at 11:00 at the Maximos Mansion, Mr Tsipras will have a private meeting with Manuel Waltz, followed by extended talks between the two delegations (11:30 a.m. to 1:00 pm).
At 13:00 will be signed the Roadmap with the functional depiction of the strategic partnership between the two countries. Subsequently, the two prime ministers will make statements to the Media.