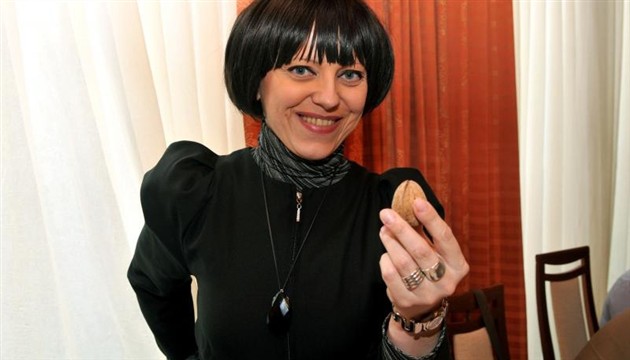 By Marija Avramovic – Zagreb
The president of the newly formed Walnut party Mirela Holy revealed in an interview with "Novi List" that if you want to be politically active in the party, in order to come to the higher positions in the party you will need to pass certain psychological assessment tests.
"All who wish to apply for certain functions will have to express their ambitions to the Personnel Commission. Then the Commission estimates activities diaries, and for higher functions performs psychological testing", Holy revealed.
Party presidency has already passed psychological testing, when professionals  tested their intelligence, communication skills and social skills. Who has failed the test, Holy didn't want and couldn't discover.
Hollysaidthat someof the policies ofthe Walnut party will be translated intolegislative proposals already in thisparliamentaryterm, such aspolicies related tohemp.
"We'll definitely go with the amendments on the Law on combating drugs. We're committed  to the legalization and liberalization of cannabis, and not just industry's", she explained.
Asked whether she's afraid of attacks from conservative circles that she supports drug abuse, former Environment Minister in Zoran Milanovic's government replied that there is a great potential in the hemp.
"As far as the Indian hemp, unfortunately families who have members suffering from cancer, multiple sclerosis and many other serious diseases could have a lot to say about the way the state behaves as a stepmother to the sick and practically forces them to be criminals", Holy reminded.
When it comes to the formation of the party in terms of infrastructure and covering the whole of Croatia, a former member of Social democratic party stressed that "today we have commissioners and established organizations in all county centers. Formally, we still need to do that in Vukovar and Krapina".
Holy also announced that in October Walnut will have intra-partyelections on all levels.
She also said that during the summer the revision of the party's membership was conducted. "In the database, we had about 4,200 people. With cleansing the data from the database, we removed 700 people and gave them the status of sympathizers", she explained.
Holly commented on the outcome of the next parliamentary elections, saying that "If you're planning to drive on the same track it's far more logical a coalition between the HDZ and the SDP. If you look at their economic programs, there isn't a big difference".
She explained that both of these parties favor the big players and they don't see that every successful business is based on a large number of small and medium-sized projects, and for them we need to create a framework for investment which is impossible if we don't have an effective public administration.
When asked about the forthcoming presidential elections, Holy said that Walnut hasn't yet made a decision about supporting current president Ivo Josipovic.
"It was decided that we will only discuss support to Josipovic when we see his program", Holy said, adding that she would personally support  Josipovic "because I know him and I respect him as a man who has a genuine progressive point of view".
If there is to be a situation that the party doesn't support Josipovic, nothing changes because, as she said, "Walnut, contrary to popular belief, is not Mirela Holy".