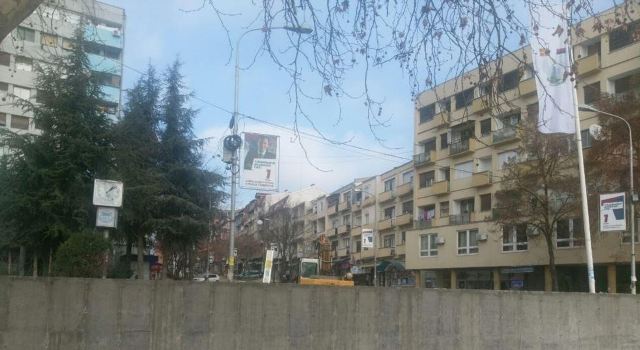 There have been many polemics in the recent hours in Pristina, Tirana and Brussels in relation to the construction being made in Mitrovica, a region dominated by the Serbs of Kosovo.
The start of the works led to numerous constructions. Most politicians in Pristina and Tirana are against this construction, which they consider as unacceptable, dividing the Serbs with the Albanians of Kosovo.
They have demanded for this "wall" to be destroyed immediately.
Mayor of northern Mitrovica, Goran Rakic said that this wall will not be demolished, but it will undergo a new project.
Meanwhile, mayor of southern Mitrovica, Agim Bahtiri said that this wall will be demolished and that this space will be used by the citizens.
On the other hand, the European Union demanded today for the Brussels agreement to be in relation to what it considers as revitalization of the bridge on Iber river in the city of Mitrovica.
Spokeswoman of the High Representative for Foreign Policy, Federica Mogherini, Maja Kocijancic, said on Friday that the construction will connect the ring road with the pedestrian area. She said that this was not a wall. "It will not be a wall, but stairs that link the ring road with the pedestrian area. During yesterday's talks, the sides agreed on building stairs that secure freedom of movement from one side to the other", she said.
Kocijancic said the EU will carefully monitor the implementation of the Brussels' Agreement.
Meanwhile, the leader of opposition in Albania, Lulzim Basha reacted on this. He said that the wall is a violation of the laws of the Republic of Kosovo and a violation of the agreements reached in Brussels. Basha said that the wall that is being built has been projected by Serb parallel structures in the north of Mitrovica.
"The building if such structure is a provocative and destabilizing act for the population of Mitrovica, relations and dialogue between Serbia and Kosovo and the climate of peace and stability in the Balkans", Mr. Basha said.
Present in the construction site today was the chief inspector of the Ministry for Urban Planning at the Government of Kosovo, Bedri Halimi. He communicated to the local authorities the permit to demolish this construction.
Experts say that the construction is a wall 2 meters high and that it will later be reduced to 1 meter and 70 cm.
Albanian citizens from the southern part of the city say that this wall is creating more divisions in Mitrovica. Those in the northern part, members of the Serb community, are surprised, saying that they do not know what hides behind this construction.
The wall in the north of Mitrovica was built suddenly with a decision of local authorities in the north of this commune. This wall came at a time when tension between ethnic groups in the city was reduced and a process of relaxation of relations, including the process for the revitalization of the Mitrovica bridge had started. /balkaneu.com/