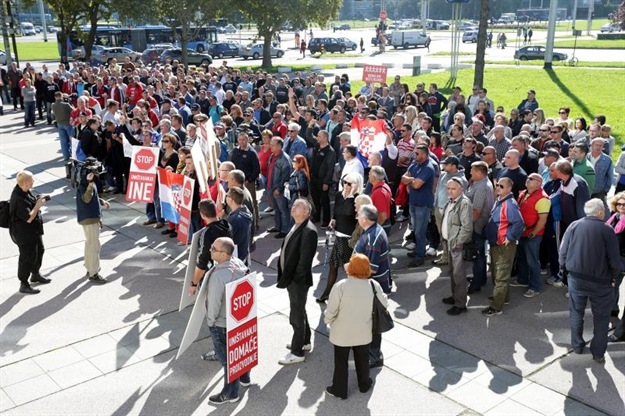 By Marija Avramovic – Zagreb
About 200 workers of Sisak refinery came this morning to the administrative building of INA in Zagreb, where earlier began a board meeting, to express their dissatisfaction with the announcement of shutting down the Sisak refinery.
Workers have organized via social networks, noting that they are determined to use all available legal means to fight for the survival of the refinery and the 800 jobs it provides.
In front of the building they were greeted by about a hundred more workers of INA who shouted "We want you to let go of INA".
It is uncertain whether the administration of INA will decide on the closure or lengthen the whole process and require additional analysis, but while the management says that the situation is still being analyzed, the tension is growing in the croatian public and amongst workers of INA.
"In order to fight for the survival of the refinery, we achieved the unity of all four unions operating at the refinery. We're about to activate the Committee for the defense of the refinery. We must not allow the refinery to shut down, and I believe that we will also enjoy the support of the government", Zeljko Jurasinovic,a member of the largest union in the Sisak refinery, said for HINA.
From INA came the official position of the company saying that the company was carrying out a strategic analysis of the current situation in the refinery market and analyzing its refinery system, and that all options related to potential changes in the refining business were open.
President Ivo Josipovic has challenged the decision of the Board of INA on the possible closure of the refinery in Sisak and urged the government not to not to allow any 'hasty steps' in the discussions with partners.
Economy Minister Ivan Vrdoljak announced that the government will do everything possible for Sisak refinery to survive.
However, the Government house also said they were outvoted in the case of Sisak refinery and could not affect on any decision made by MOL about closing the refinery.