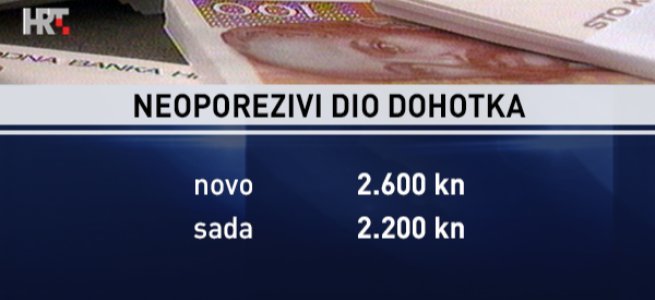 By Marija Avramovic – Zagreb
Finance Minister Boris Lalovac announced that in September's budget revision  the tax-free salary  limit is going to be increased in order to stimulate consumption in the country and that the revised budget should reduce state's costs by  1.5 to 2 billion kuna (around 200 million euro).
In September, the government  will not revoke the highest income tax rate of 40%,  but it plans to increase the limit from which it will be applied, croatian media reported yesterday.
Lalovac mentioned that this rate would be applied to the base which is above 13 or 13.5 thousand kuna, ie to the gross income above 20 thousand and not to 14 thousand gross income as it is now. Ministry of Finance is still working on the models and will soon present them.
"We will strive to reduce the tax burden and thus expand the tax base so that more people participate in the payment of taxes, in order to get a positive effect on the budget", Lalovac said.
He also said that the banks had agreed to write off small value debts up to 10 thousand (maybe 15 thousand) in exchange for tax breaks, and that a similar agreement was expected with telecom operators.
The application of the new tax rules will take effect from October 1, 2014.
Vice-president of the Social democratic party Zlatko Komadina said that the members of the Presidency of SDP generally agree with the idea of ​​legislative amendments, which would increase the non-taxable income, reported Croatian news agency (HINA).
Prime minister's Zoran Milanovic recent statement in Hvar that the middle class should have more money for spending after-tax salary is a confirmation of party's stand on the issue of this mini tax reform.
Komadina stressed that his personal view on the matter was that such legal changes would significantly reduce the revenues of local and regional self-governments, without any guarantee that it would actually lead to the desired increase in wages and consumption.
The government plans to make a decision in September, and the application would start from October 1. The only dilemma in the Ministry of Finance is of a technical nature – whether employers can customize in a month to the new wages accounting.
Announcements of the Government's intentions to reduce the tax repression of citizens in order to increase spending, encountered the opposite reaction of trade unions, some of which consider this to indicate a change of direction in policy, while others believe that symbolic shifts in income tax will not significantly improve the standard of citizens.