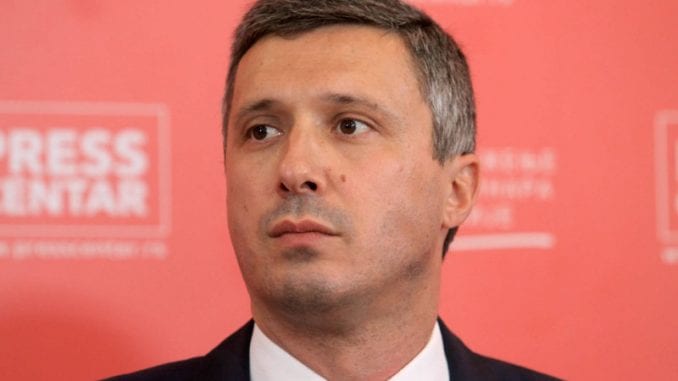 The anti-corruption law proposed by the government cannot prevent corruption, said Bosko Obradovic, leader of the opposition conservative movement Dveri. Obradovic argued that the ruling Serbian Progressive Party (SNS) led by President Aleksandar Vucic is a "well of corruption" in the country.
"Laws are being adopted, but their implementation lacks", Obradovic said at the press conference in the parliament on Tuesday. "I cannot agree that the new law would prevent corruption".
The leader of Dveri, which is one of the founders of the Alliance for Serbia, the political group behind the ongoing anti-government protests, stressed that the public was not aware who financed Vucic's recent campaign "The future of Serbia". "If it was financed by SNS, the president has misused his position, leading an official campaign instead of a partisan one. And if it was financed by the budget, he has misused it because all citizens are filling it", Obradovic said.
As for the protests, he said that their effects were "enormous" because they have allegedly caused "both the awakening of the opposition public and readiness for the political changes in Serbia".
What has been achieved by the demonstrations, according to Obradovic, was "the courage of the citizens to go to the streets" and protest "against the regime which punishes them because of it". "We have a united opposition that stands behind its common goals for fair elections".
When asked about the government's idea on dialogue in parliament, he reiterated that the opposition was interested in talks on media freedom and "providing with the preconditions for fair elections". The parliament cannot operate "normally" as long as its president is Maja Gojkovic (SNS), he added.
The Hague Tribunal "fake, anti-Serb"
Bosko Obradovic said that his party would never extradite any Serbian citizen to The Hague Tribunal which is, in his words, is "fake" and "anti-Serb".
Earlier this week, the Tribunal insisted that members of parliament Vjerica Radeta and Petar Jojic should be extradited. Both are members of the far right Serbian Radical Party (SRS). Vucic was one of the leading SRS officials for some 15 years./ibna