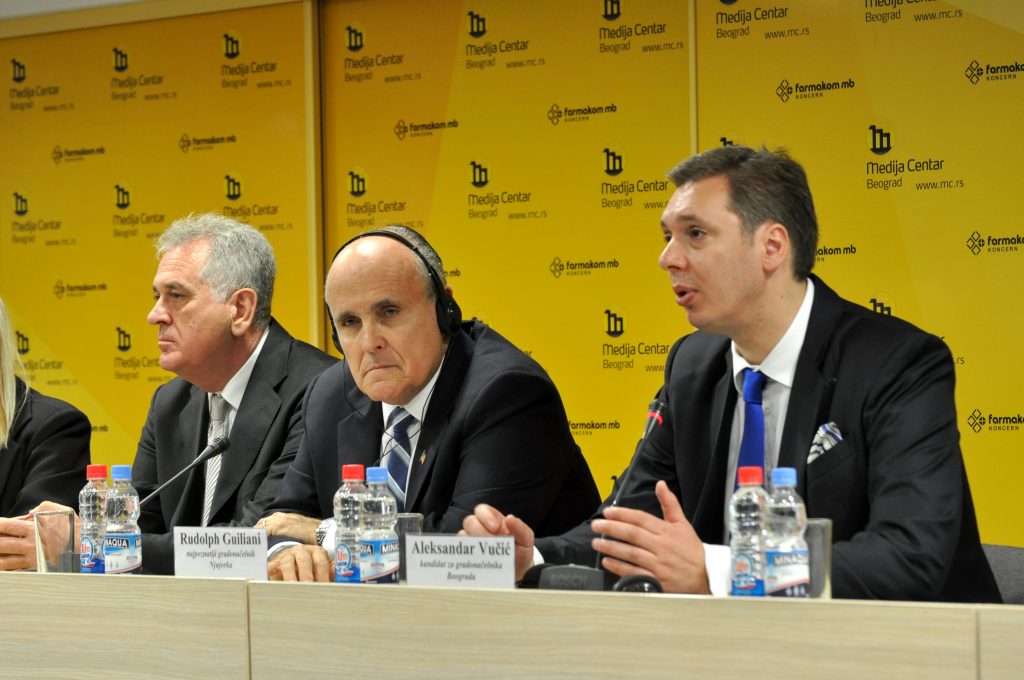 Hours after former New York mayor Rudolph Giuliani emerged as the possible candidate for the top position in incoming president-elect Donald Trump's administration, American media recalled his ties with Serbian politicians. Associated Press and CNN, among others, have put into question Giuliani's qualifications to become Secretary of State because of his 2012 travel to Belgrade.
Namely, Giuliani met Serbian Progressive Party leaders – Tomislav Nikolic and Aleksandar Vucic, which are now president and prime minister respectively – amid presidential and Belgrade elections. In his words at the time, the purpose of the visit was to give the advices, not to support the two.
"When Clinton (Hillary) was secretary of state, she was the one concerned about Giuliani after he took a trip to Belgrade and met with leaders of a Serbian political party once allied with Serbian strongman Slobodan Milosevic.  'This is outrageous,' Clinton wrote in an April 2012 email after her chief of staff, Cheryl Mills, forwarded a copy of an Associated Press story about Giuliani's meeting with Serbian Progressive Party officials. Milosevic, accused of war crimes for his conduct in the Balkan wars of the 1990s, died in prison a decade ago", AP reported earlier this week.
In the meantime, CNN published its story on Thursday:  "The former mayor appeared on 'Evening With Ivan Ivanovic,' a late night Serbian talk show, in April 2012, during a visit to the European nation to consult with Serbian politician Aleksandar Vucic … a former hardline nationalist who was once aligned with autocrat and convicted war criminal Slobodan Milošević".
CNN recalled that Vucic, as minister of information in the late 1990s, "instituted fines for journalists who criticized the government and banned some media. Vucic later moderated and expressed regret".
Giuliani said in Belgrade that he was not endorsing Vucic.
"We're not involved in the election, we're not making an endorsement in the election. I don't know enough about the election to do that. We're just here to advise him, give our advice. My company gets paid for it, I don't get paid for it. That's what my company does, gets paid for giving advice, but that's being done by a private company not by the campaign", Giuliani said at the time.
AP also stressed that Giuliani was linked with an Iranian opposition group which was at the US terror list./ΙΒΝΑ