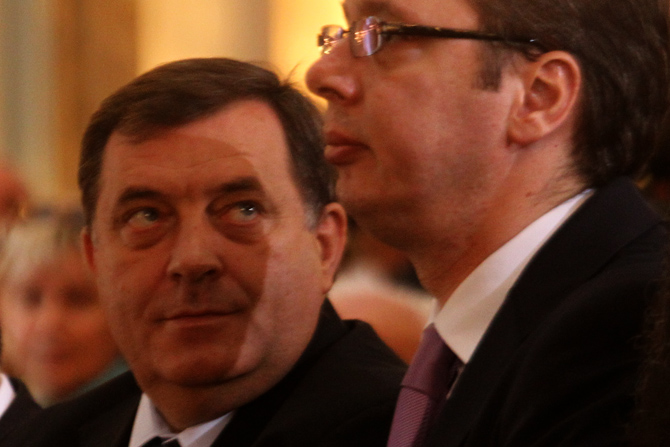 By Milos Mitrovic – Belgrade
Joint session of the governments of Serbia and Bosnian entity Republika Srpska (RS) is among the news announced after Serbian prime minister Aleksandar Vucic's meeting with RS president Milorad Dodik on Tuesday.
RS daily "Glas Srpske", which is close to Dodik, reported today on joint government session "in period to come" as well as about the improving economic relations between Serbia and RS "in accordance with agreement on special and parallel relations" of Belgrade and Banjaluka (RS capital). At the same time media in Serbia underlined that Vucic has informed Dodik on the results of the Western Balkans conference held in Berlin last week, mostly about regional infrastructure projects that are to be financially supported by the European Union.
Dodik was not among the regional leaders invited to Berlin summit, organized by German chancellor Angela Merkel. Bosnia and Herzegovina has been represented by prime minister Vjekoslav Bevanda which was strongly criticized by Dodik for "he (Bevanda) did not held consultations with major political factors" in Bosnia before going to Berlin.
Some media, such as portal bosnjaci.net, speculated that Germany and EU have demanded from Belgrade to put pressure on Dodik in order RS leader to change his politics, especially his statements on future of Bosnia and Herzegovina. Dodik continually stresses that Bosnia is an "impossible state", "puppet of the strangers" and pledges for RS right to organize the referendum on independence. In 2011 Dodik has launched campaign for referendum, but subsequently calmed down his rhetoric after meeting with EU high representative for foreign policy and security Catherine Ashton.
Considering Serbia, general elections in Bosnia next month will be a test. Until government change in Belgrade in 2012 when ex-president Boris Tadic stepped out after two subsequent terms, Dodik has enjoyed almost unanimous support of the government. After Vucic's Serbian Progressive Party won the landslide victory in this year's elections and Vucic became prime minister, his first official visit abroad was in Sarajevo. The analysts have claimed that the visit was in order to affirm Vucic's constructive role in the region.
However, Vucic has also met Dodik – who did not gave up from his rhetoric on Bosnia as "failed state" – several times ever since the visit. The most remarkable "emergency" meeting between the two was held in July, following then Turkish prime minister Rejep Tajip Erdogan's alleged remarks that "100 million Turks and warships will defend (Muslim) Bosnians" from an assumed threat.
Dodik is steadily opposed to Turkish diplomatic initiatives in the region, and both Vucic and Serbian president Tomislav Nikolic have gave up from trilateral Ankara-Sarajevo-Belgrade summits which have been hold during Tadic's terms.
In June, Vucic has refused to mark Great War outbreak centenary in Sarajevo, and met Dodik and filmmaker Emir Kusturica instead.
Nevertheless, last month Vucic told Belgrade's "Danas" daily that Serbia would not interfere in Bosnian elections in October. Dodik also confirmed he does not expect Vucic to support him and his Alliance of Independent Social Democrats (SNSD), alike to previous campaigns in both Serbia and RS when Dodik participated in Tadic's rallies and Serbian officials such as former foreign minister Vuk Jeremic held speeches at SNSD manifestations.
Furthermore, rumors appeared that Vucic has helped Dodik's opposition in the current campaign by providing for Serbian Democratic Party (SDS) public relations services of an Israeli expert. Vucic has allegedly personally secured the fund for this assistance.