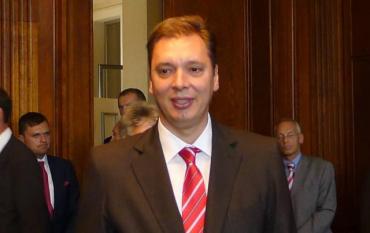 Review by Hari Stefanatos
Serbian Prime Minister Aleksandar Vucic was greeted by Merkel with highest military and state honours, which included the intonation of the national anthems and flag salute of the two countries.
Vucic started his two-day visit to Germany with a working lunch with German Chancellor Angela Merkel, accompanied by Serbian Justice Minister Nikola Selakovic and German chancellor's Foreign Policy Adviser Christoph Heusgen, Economic Adviser Lars-Hendrik Roeller, Advisor for the EU Affairs Nikolaus Meyer-Landrut and Secretary of State to the German Federal Ministry for Foreign Affairs Markus Ederer, during which Serbia's EU integration path and its relations with Germany will be discussed.
A press conference will take place after the working lunch, after which Vucic will have a meeting with the German Foreign Minister Frank-Walter Steinmeier to discuss European and international matters.
Vucic had thanked Merkel for the substantial aid and support Germany has provided to Serbia, regarding the catastrophic May floods that devastated the country, and ask for further assistance.
"We will appeal to our German friends to help us with the development plan in the flood-hit municipalities. We can analyze the needs and address most of them, at the same time boosting the economic activity in the flood-affected region, and that is where we need Germany," Vucic said.
(Source: Tanjug)