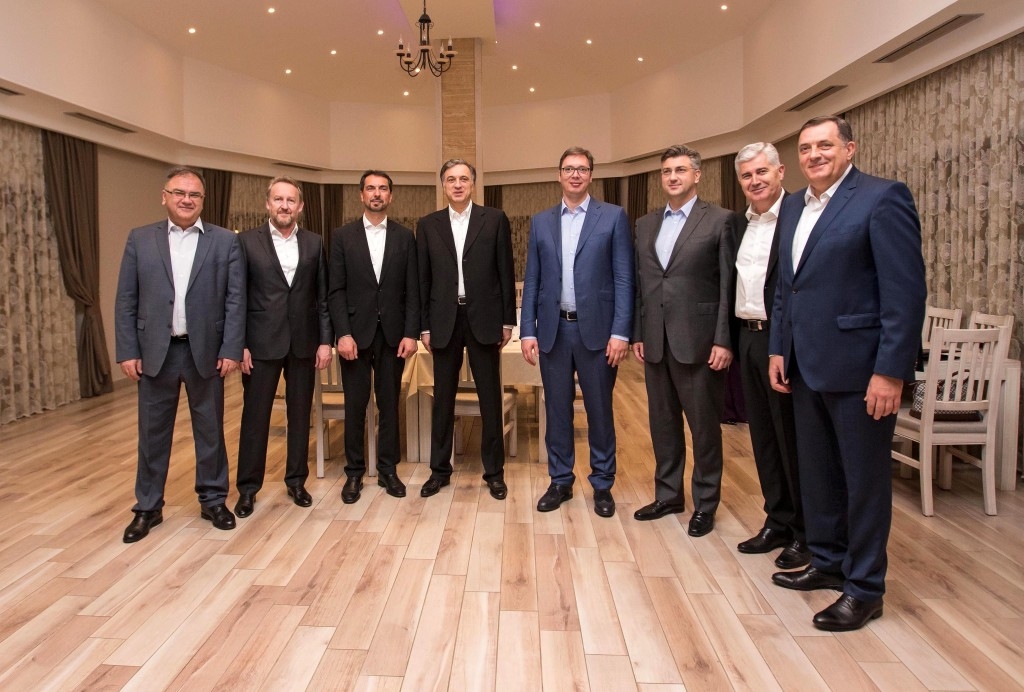 In the eve of the opening ceremony of "Mostar Economy International Fair" Serbian PM and newly elected president, Aleksandar Vucic, arrived in Mostar, making it his first foreign destination after the Sunday elections.
As the visit had been scheduled earlier and the inauguration ceremony will take a place in two months, in Mostar Vucic was with the capacity of the Prime Minister. He had several meetings with high BiH officials who will be present at today's ceremony.
Host at Mostar was the Croatian member of the BiH Presidency, Dragan Covic, who met Vucic to discuss the regional issues and cooperation between two countries. The conclusion of the meeting is that it is necessary to preserve and strengthen the economic and political relations between BiH and Serbia.
Covic congratulated Vucic on his victory in the election, saying it is a great honor that Vucic came the day after the elections in Mostar, where he will on Tuesday attend the opening of the Economy International Fair.
"We discussed a variety of topics that are plaguing our whole area, primarily BiH. I let my guest know about the obstacles we have but also about our desire to progress on the EU path, as well as the efforts to stabilize relations in the country", Covic said.
He expressed hope that the meetings will contribute to calming the situation in the region, because it will enable more talk about economic issues and integration processes, which are jointly advocated by both countries.
Vucic pointed out that in the Mostar Fair this year there will be more companies from Serbia, adding that the economic cooperation is of great importance for the entire region.
"We agreed that our cooperation in all areas must improve, because the success of our cooperation means a better future for all our peoples. It will not be easy, but I believe we all understand what our job is. It is better to talk and negotiate every day than let something bad happen, Vucic said.
Serbian PM added that it is time for all to turn to the future. Vucic said that he believes that the future is in development and that normal people want a normal life and a normal future.
"Therefore, I am ready to invest a lot of energy in order to achieve that", Vucic stressed.
He also had a meeting with Serb member of BiH Presidency and actual Chairman of this institution, Mladen Ivanic. After the meeting, Vucic said that he will work on the improvement of Serb-Bosniak relations, as an important part of cooperation in region. Vucic emphasized that he is proud on the large number of votes from Bosniaks in Serbia on Sunday's elections.
Ivanic said that they discussed the relations between BiH and Serbia and that, in this regard, serious steps forward must be taken.
"As I said earlier today, it is up to Bosniak leaders in BiH to say whether they are in favour of the reestablishment of good relations or not", Ivanic pointed out.
Along with highest BiH officials, the Fair opening ceremony gathered politicians form the region, such as Croatan PM, Andrej Plenkovic, Montenegrin PM, Filip Vujanovic and many others. The Fair is, therefore an opportunity for large number of bilateral meeting and discussions about regional issues. Leaders had informal dinner on Monday late in the evening to discuss cooperation in economy, the situation with Croatian company "Agrokor", which affects the region, Montenegro's accession to NATO and many others. Bosniak member of BiH Presidency, Bakir Izetbegovic, and RS president, Milorad Dodik, also participated in this meeting./IBNA