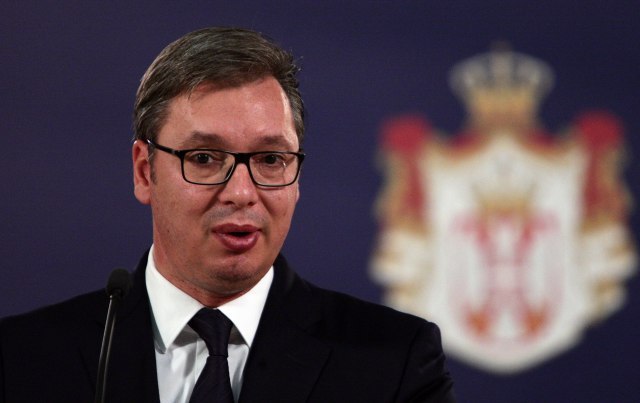 Serbian President Aleksandar Vucic will not be travelling by plane for one month due to chronic health problems that worsened on Saturday and forced him to be hospitalized to an intensive care unit.
Vucic has already canceled his planned visit to Iran on November 22 and to the United Arab Emirates after that.
Doctors at the Military Medical Academy were clear that flying in a plane could cause Vucic's health to deteriorate, and recommended that this mode of transportation should be avoided until the situation stabilized.
According to reports from blic, the Serbian President will have to follow a prescription treatment and cut his activities in half in the coming weeks. Furthermore, all scheduled appointments and visits will be postponed until his health is restored.
Vucic was hospitalized at the Military Medical Academy on Saturday for heart problems and was discharged Monday morning, but instead of going home he went to work in his office. However, due to his condition he worked fewer hours; he was discharged in the morning and went to work almost immediately.
Serbian Health Minister Zlatibor Loncar said on Sunday that President Vucic faced chronic, minor heart problems, but his health deteriorated on Friday, so he decided to see the doctors at the Military Medical Academy, where he was found to be ill.
Doctors at the Military Medical Academy took immediate action to address the seriousness of the condition of the Serbian President, who responded well to the treatment given.
In a written message, Vucic thanked the nursing staff and noted that he would be ready on Monday.
The Serbian President was whished swift recovery from a number of leaders such as Emanuel Macron, Angela Merkel, Recep Tayyip Erdogan, Matthew Salvini, Jens Stoltenberg, Viktor Orban, Zoran Zaev, Edi Rama, Marian Sarec and Borut Pahor. /ibna